STORY HIGHLIGHTS
NEW: Flags lowered to half mast, entertainment programming cut to honor quake victims
NEW: Death toll from quake rises to 2,064, 175 people still missing, state media reports
NEW: Chinese President Hu Jintao pays silent tribute to the victims from Beijing
Premier Wen Jiabao travels to quake-devastated zone to inspect damage
(CNN) -- China lowered flags to half staff and pulled all entertainment programming from the airwaves Wednesday to mourn more than 2,000 people killed during last week's earthquake in the country's northwest, Chinese media reported.
In Qinghai province where the 6.9-magnitude quake was centered, residents observed three minutes of silence at 10 a.m. (10 p.m. ET), the state-run China Daily reported.
Chinese President Hu Jintao paid a silent tribute to the victims from Beijing where he was joined by eight other members of the Communist Party.
The death toll has risen to 2,064 from the quake that struck the impoverished county of Yushu last week. Another 175 people remain missing and 12,135 were injured, rescue headquarters said, according to the newspaper.

Video: A day of mourning in China

Video: China mourns quake victims

Video: Tension in China quake zone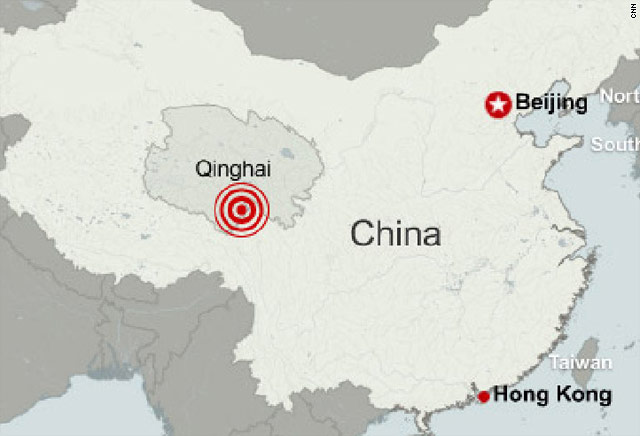 Map: Earthquake in China
"Don't forget the disaster in Yushu, and let's pray for people there, wishing that they get through the difficulties," said Yu Jia, an anchorman of CCTV's sports channel.
Are you there? Send your photos, video, stories
U.S. Marines lowered the American flag to half staff at a brief ceremony outside the U.S. Embassy in Beijing. American consulates in mainland China followed suit.
Later, the embassy held a charity event to collect needed items, such as clothing and non-perishable food, to send to Qinghai.
"We gather to let the thousands who have been injured in the earthquake and the tens of thousands who are today homeless know that America stands ready to assist," said Charge d' Affaires Robert Goldberg.
How to help: Impact Your World
The U.S. government has donated $100,000 U.S. dollars to Red Cross organizations in China for quake relief. And a disaster response expert with the U.S. Agency for Development (USAID) will visit the affected area this week to consult with local authorities on response efforts.
There have been no reports of any Americans killed or wounded in the quake.
Since the quake struck the country's Tibetan region, rescuers have been working round the clock to find survivors and pull them from the rubble.
Can buildings be made earthquake-proof?
Population: 5 million
People: 44 ethnic groups, including Tibetans and Mongols
Average elevation: Over 3,000 meters above sea level
Geography: Qilian Mountains, the Qingnan Plateau and the source of the Yangtze, Mekong and Yellow Rivers
GDP: US$3.2 billion; average GDP per capita US$639
Industries: Agriculture, hydropower, oil and natural gas

Source: China Internet Information Center
The earthquake toppled about 15,000 homes and caused more than 100,000 people to flee the area.
Qinghai province is home to about 5 million people and is considered a gateway to Himalayan Tibet.
About half its people are Han Chinese, but the area is home to more than 40 ethnic groups, including Tibetans, Hui and Mongols.
Earlier, Premier Wen Jiabao traveled to the earthquake-devastated zone to inspect the damage and assure victims that the search would continue.
World's biggest earthquakes since 1900
"Your suffering is our suffering," Wen said. "We are going through the same pain as you are. The family members you lost are also our family members, and we grieve for them as you do."
Wen surveyed the rubble of buildings and spoke with residents in the predominantly ethnic Tibetan region -- where anti-government sentiment is simmering -- to drive home Beijing's concern.
Ethnic Tibetans have accused Chinese soldiers of not doing enough to help in the immediate aftermath of last Wednesday's 6.9-magnitude earthquake. That's an allegation the Chinese government denies, but Wen's visit could help boost morale -- at least among rescuers, some of whom are battling high altitude sickness.
"As long as there is a slight hope, we will never give up," he said. "We need to unite as one, to do a good job in our rescue work. At the same time, I assure everyone, that we will definitely make life good here again."