Sri Lanka set to get new Cabinet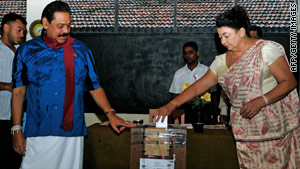 Sri Lankan President Mahinda Rajapaksa casts his vote in the parliamentary election on April 8.
STORY HIGHLIGHTS
Results of revote at two electoral districts Tuesday will be published same night
Sri Lanka's Constitution requires Cabinet ministers to come from Parliament
President Rajapaksa's UPFA won 117 seats in 20 electoral districts
Colombo, Sri Lanka (CNN) -- Sri Lankan President Mahinda Rajapaksa will swear in a new cabinet on Wednesday, just a day ahead of the first session of the island nation's new parliament.
Since parliamentary elections on April 8, the nation has been without a cabinet of ministers for the first time in its history. The president has been exercising all cabinet powers.
Sri Lanka's Constitution requires that Cabinet ministers come from the ranks of Parliament. Since results of two electoral districts have not been officially announced, Rajapaksa has not been able to formulate his cabinet.
The Department of Elections, citing irregularities at polls, has partially annulled results in the hill country district of Kandy and the northeastern electoral district of Trincomalee.
A revote at these stations will take place on Tuesday. That same night, elections department officials say, the results will be published officially. That will pave the way for the formation of a cabinet of ministers on Wednesday.
While 196 members of the 225-seat parliament are elected, another 29 members are appointed on "national lists" submitted by contesting parties and based on the votes received nationwide.
President Rajapaksa's ruling United People's Freedom Alliance (UPFA) has won 117 seats in the 20 electoral districts officially announced so far. Second is the right-wing United National Front (UNF), which has secured 46 seats, while the Democratic National Alliance (DNA) has 12, and the Tamil National Alliance (TNA) has five seats.
Analysts say the UPFA should win a near two-thirds majority when the re-polls are concluded.
The DNA is an alliance, and its major player is the Marxist Janatha Vimukthi Peramuna (JVP, or the People's Liberation Front).
Rajapaksa defeated General Sarath Fonseka at the January 26 presidential elections. After that, Fonseka teamed with the JVP to form the alliance. Fonseka was elected as a member of parliament from the Colombo district.
President Rajapaksa will make a policy statement at the new session of parliament.