STORY HIGHLIGHTS
Survivors in Jiegu, China, spend night in freezing temperatures with little shelter
6.9-magnitude earthquake hit impoverished, mountainous area Wednesday morning
More than 580 dead, 10,000 others injured, state-run media says
Boarding schools fell on students as they prepared for the day, Xinhua reports
(CNN) -- As dawn broke Thursday in earthquake-ravaged Jiegu, China, some people walked the streets in shock as others continued their all-night efforts to scour debris with their hands for survivors.
A 6.9-magnitude earthquake hit near the town in an impoverished area of Qinghai province the morning before, killing more than 580 people and injuring at least 10,000 others, according to state-run media.
"Civilians are scouring over the debris, looking for survivors, looking for whatever else they can find in rubble," CNN's John Vause reported from Jiegu, a town of 100,000 people. "It seems that most people here still seem very dazed by what happened. They seem to be walking up and down the streets, looking at the damage and the destruction."
The quake in the mountainous region had flattened homes -- many of which were made with wood and earth -- and other buildings in Jiegu and elsewhere in Yushu prefecture, a Tibetan region of Qinghai.
Many survivors spent Wednesday night in open areas in freezing or near-freezing temperatures.
Almost 1,000 people sat or lay on the ground outside a government sports building in Jiegu, some wrapping themselves with quilts they had taken from rubble, and others used their own tents, the Xinhua news agency reported.

Video: Earthquake devastates China

Video: Hundreds killed in China earthquake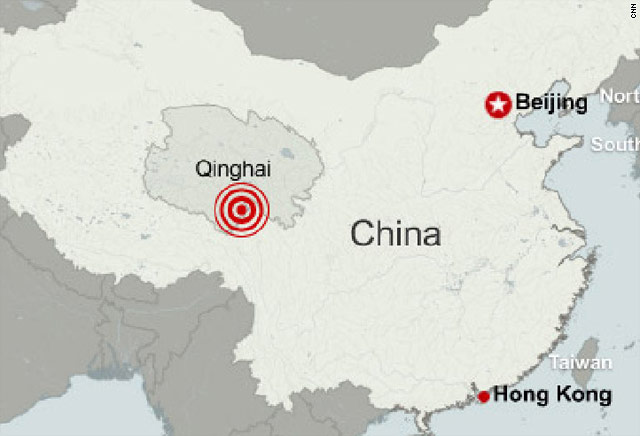 Map: Earthquake in China
One of them, Zhaxi Toinzhub, said her three children were buried in rubble.
"I'm hungry and thirsty. We've been waiting for help since [Wednesday] morning," she said, according to Xinhua.
Many of the dead and missing were boarding-school students who were preparing for the day when their buildings collapsed. Zhu Liang, a Yushu prefecture government worker, said he saw half of the buildings in the Yushu Vocational School fall.
"I do not know how many students have died," Zhu, who was helping with rescue efforts, told Xinhua. "Students just got up and were yet to go to class when the quake happened.
"I recovered several bodies from the debris and found they were fully dressed."
A teacher at Yushu Primary School said all of that boarding school's buildings had toppled.
Five of the school's 1,000 students died, the teacher, surnamed Chang, told Xinhua.
"Morning sessions did not begin when the quake happened. Some pupils ran out of dorms alive, and those who had not escaped in time were buried," Chang told Xinhua.
Population: 5 million
People: 44 ethnic groups, including Tibetans and Mongols
Average elevation: More than 3,000 meters (9,842 feet) above sea level
Geography: Qilian Mountains, the Qingnan Plateau and the source of the Yangtze, Mekong and Yellow rivers
GDP: US $3.2 billion; average GDP per capita US $639
Industries: Agriculture, hydropower, oil and natural gas

Source: China Internet Information Center
Samdrup Gyatso, a 17-year-old who ran a shop in his Jiegu home, told Xinhua that some of his relatives died as a result of the quake.
"There are 10 people in my family, and only four of us escaped. One of my relatives died. All the others are buried under the rubble," he said, according to Xinhua.
With no place to stay, many residents took vehicles out of town on Wednesday and headed to Xining, the provincial capital, according to Xinhua.
"The streets in Jiegu are thronged with panic, injured people, with many bleeding from the head," Zhuohuaxia, a prefecture spokesman, told Xinhua on Wednesday.
Many ethnic Tibetans live in Jiegu, CNN's Vause said. He said one resident told CNN that when his house began to shake, he grabbed his family and ran outside. There was another quake, and his house collapsed, he said.
His family was housed outside in tents, he said, but he had managed to buy water. He said they had seen no government assistance on Wednesday.
People were living in fear, the man said, and some were headed up into the mountains to escape the threat of flooding should an area reservoir break.

FOLLOW THIS TOPIC