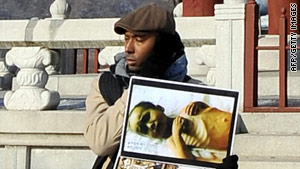 Aijalon Mahli Gomes was arrested on the North Korea-China border in January 2010.
STORY HIGHLIGHTS
N. Korea sentences American to 8 years of hard labor, fines him 70 million N. Korean won
Aijalon Mahli Gomes detained January 25 after trespassing into North Korea from China
State media referred to crossing as a "hostile act committed against the Korean nation"
Seoul, South Korea (CNN) -- An American man has been sentenced to eight years hard labor for illegally entering North Korea, the reclusive country's official press agency said in a release monitored in Seoul Wednesday.
The American is Aijalon Mahli Gomes, 30, who was arrested after crossing the North Korea-China border on January 25. The American was, according to South Korean press reports, an English language teacher with strong Christian convictions, who had taken part in anti-North Korean protests in the South.
It is the third recent case of Americans being held in North Korea.
Two American journalists -- Laura Ling and Euna Lee, who had crossed the border last March and were arrested and sentenced to 12 years hard labor -- were released in August after an intervention former U.S. President Bill Clinton.
Robert Park, a Korean-American Christian evangelist who was arrested after entering the country on Christmas Day, had given a media interview in which he stated his aim to force change in North Korean human rights conditions. He was released in February after telling North Korean state media that he had been wrong about human rights conditions there.
A statement attributed to Park and released by one of his associates -- high-profile anti-North Korean activist Norbert Vollertsen -- on March 24, stated: "Robert Park begs the American government to intervene on Mr. Aijalon Gomes' behalf...Mr. Gomes is one of the most kind, gentle, beautiful and good persons Mr. Robert Park has ever met."
The United States has no diplomatic relations with North Korea -- U.S. interests there are represented by Sweden. In an e-mail to CNN, Swedish ambassador to Pyongyang Mats Foyer referred questions on Gomes' welfare to the U.S. State Department.
N. Korean defector touts ideology over force
In recent years, no Americans have been incarcerated in North Korea's harsh labor camp system. Lee and Ling were held in isolation in a guest house in Pyongyang, as was Evan Hunziger, who was held in the country for three months in 1996 after swimming across the Yalu River border. He was released after a diplomatic intervention by former U.S. Congressman Bill Richardson, who maintains high level contacts in Pyongyang.
"The North Koreans don't want anyone to see inside their camps," said Choi Jin-wook of the Seoul-based Korean Institute of National Unification. "He [Gomes] is going to be used by North Korea as a bargaining chip."
North Korean survivors of the camps who have defected to South Korea paint a grim portrait of institutionalized brutality. The most significant peril, however, is death by starvation. With large portions of North Korea's general population routinely suffering malnutrition, occupants of the gulag are at highest risk.
Hunziker committed suicide a month after being released from Pyongyang. Park has made no public appearances since his February release, but associates have told the South Korean media that he was allegedly sexually abused in the North, and that he was treated at a mental institution upon returning to the United States.
Even Christian groups demanding change in North Korea advise against activist infiltration of the country.
"The North Korean regime has shown itself to be capable of the utmost brutality; the efforts it will go to to physically and physiologically torture an individual are horrendous," Ben Rogers, a representative of Christian Solidarity Worldwide, which has arranged for North Korean defectors to give testimonials before European parliaments and government officials, told reporters.
"I have respect for those who have the courage to take a stand in that way, but it is not something I'd advocate."
FOLLOW THIS TOPIC