Americans face terror trial in Pakistan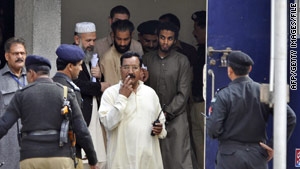 Five American terror suspects, surrounded by police and officials, leave court in Sargodha, Pakistan, on March 2.
STORY HIGHLIGHTS
Trial will take place in the jail where they are being held because of security concerns
Five worshipped together at mosque in U.S. city of Alexandria, Virginia
Defense expected to cast men as wanting to learn more about religion, culture
Islamabad, Pakistan (CNN) -- Five Americans accused of plotting attacks on Pakistan face up to life imprisonment in a terror trial that opened Wednesday in the city of Sargodha.
The men, who have been called the "D.C. 5" because they all lived in the region around the U.S. capital, have been charged with several terrorism-related counts including criminal conspiracy to commit terrorism and waging war against Pakistan and its allies.
Sargodha Police Chief Usman Anwar testified that he has strong evidence that the five men planned to attack specific targets.
Nadeem Akram Cheema, prosecutor for the Anti-Terrorism Court in Sargodha called six of 20 witnesses -- Anwar, a police investigator and four hotel managers -- to testify Wednesday. The rest will take the stand when the trial resumes on April 17.
The five Americans -- Ahmed Abdullah Minni, Umar Farooq, Aman Hassan Yemer, Waqar Hussain Khan and Ramy Zamzam -- have said they are innocent and that they were tortured in jail. If convicted, they face a possibility of life imprisonment.
They used to worship together at a mosque in Alexandria, Virginia, until they went missing in November and turned up in Pakistan. They were arrested in December in Sargodha, about 120 miles south of Islamabad.
The trial unfolded in the jail where they are being held because of security concerns.
Farooq's father is attending the proceedings along with representatives of the U.S. consulate in Lahore.
Pakistani authorities have described the men as college students intent on waging holy war against "infidels for the atrocities committed by them against Muslims around the world."
The defense is expected to cast the five as curious young men anxious to know more about their religion and culture.
CNN's Kiran Khalid contributed to this report.