STORY HIGHLIGHTS
Pakistan has won international praise for its year-long military campaign against Taliban
Refugees say they are human collateral in conflict, suffering due to indiscriminate attacks
Jalozai is largest refugee camp in Asia, sheltering 100,000 people
Jalozai Camp, Pakistan (CNN) -- There is a frontline here in this dusty corner of Pakistan, but not the kind where guns blaze and tanks roar. On this frontline U.N. tarps flutter in the breeze and wheelbarrows full of food rations roll down dirt pathways. But make no mistake, they are as much a part of Pakistan's war on the Taliban as any battle front.
Those who shelter in this sprawling camp, near Pakistan's northwestern frontier city of Peshawar, have the wounds to prove it. Bullet holes, shrapnel lacerations and resignation are commonplace.
Hazrat Khan says the Taliban targeted him and his family and destroyed their home. He parts his hair to show the scars from shrapnel cutting into his scalp. Living under Taliban rule was becoming more and more dangerous, he says.
"If living under the Taliban was tolerable, do you think we would be living here?" says Khan adding, "We aren't happy here but what can we do? Our homes were destroyed. At least we are in our own country. We believe that only the government can straighten out the Taliban."
Indeed, the Pakistani government is winning praise in Washington and other foreign capitals for its yearlong assault on the Taliban. But as the war rages, people here continue to lose their loved ones, their homes and their livelihoods.
More than 1.2 million displaced Pakistanis are scattered around the country today, down from last year's peak of just over 3 million. But Jalozai, which shelters more than 100,000 homeless, remains the largest displacement camp in Asia according to the U.N..
"It's still one of the largest displacement crises in the world, and it has been forgotten," says Kilian Kleinschmidt, of the United Nations High Commissioner for Refugees (UNHCR).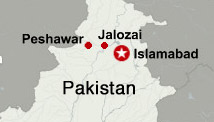 Locationion of refugee camp
They have started this war because of America's bidding
--Refugee Ghulam Noor
"It's a challenge for all of us and it cannot be that we leave the human aspect of this war aside. We cannot neglect these people. If we want these people to understand that the future is in peace and stability, rather than turmoil, they need to be assisted properly" adds Kleinschmidt.
The war on terror may be global, but for most here in this camp, it's an intimate affair. With every Pakistani success on the battlefield there are devastating civilian losses.
Ghulam Noor is an earnest man of 25 from Bajaur in Pakistan. While he once cared for a wife and son, now he must rely on his father for every vital need. He has shrapnel lodged in his brain and he is partially paralyzed.
"The (Pakistani) army's helicopters were patrolling above, and they made no distinction between us and the militants. Right or wrong target -- they didn't discriminate," says Noor, adding that he was injured by shelling during the airstrikes.
But he says he does not consider this Pakistan's war, even if it does manage to deal a mortal blow to the Taliban.
"They have started this war because of America's bidding. Pakistan has no war within it. They get their orders from America and carry them out here," he said.
And yet the international community seems to have moved on, assuming the Pakistani Taliban is under control and the consequences dealt with. While international donors contributed hundreds of million of dollars last year in aid when the Pakistani assault on militants began, the U.N. says aid money is only trickling in this year.
"Nothing has come so far -- very little. Some governments have responded, but the same solidarity we saw last year is now not there anymore because for many international players, this is over," said the U.N.'s Kleinschmidt. "There are people being displaced every day, operations are ongoing, it has become very complex," he added.