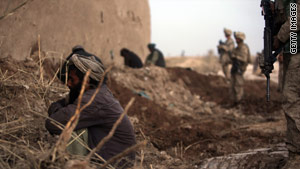 U.S. troops will now get more time to interview Afghan detainees.
STORY HIGHLIGHTS
U.S. troops will now be able to hold Afghan detainees for up to 14 days instead of four

Critics argued the 96-hour rule puts soldiers in danger

Former Army captain Roger Hill was discharged for role in questioning Afghan detainees

Washington (CNN) -- A controversial policy that gives U.S. forces in Afghanistan four days to question detainees is being changed to give soldiers more time to interrogate the captives, Gen. David Petraeus said Tuesday.
Petraeus told the Senate Armed Services Committee that American troops will now be able to hold detainees for up to 14 days before either releasing them or turning them over to the Afghan government. In some cases, longer detention will be an option, he said.
Currently, U.S. troops have 96 hours to question people picked up in the field before they must either release them or hand them over to Afghan authorities. The rule is designed to give the Afghan government control over detainees and avoid abuses.
Pentagon spokesman Geoff Morrell said that all detainees won't be held for the full 14 days.
"This is a new authority that was requested by Gen. Petraeus and approved by Secretary Gates, but we don't anticipate it becoming our new standard operating procedure," he said. "Most combatants we pick up on the battlefield will still be turned over to Afghan authorities within 96 hours.
"However, there may be some who require more time in our custody in order to determine precisely who they are, what they're up to and how much of a danger they pose."
A CNN investigation in February found that one out of every four detainees has been released since NATO began keeping statistics, and soldiers complained the policy could put them in danger.
Petraeus said in January the 96-hour rule was a "big concern." He said the change has been approved by Defense Secretary Robert Gates.
Sen. Lindsey Graham, a critic of the policy, said he believes troops in the field "will appreciate that."
"I'm glad you've been given some relief, because the old rule just didn't make a lot of sense," said Graham, R-South Carolina. "And I think the new way forward does make sense."
The 96-hour policy has been in effect since December 2005. NATO does not track what happens to the detainees once they are let go.
Nearly half of all U.S. troops in Afghanistan operate under NATO rules and fight as the International Security Assistance Force. CNN confirmed Tuesday that the remainder are also being put under NATO, meaning the new 14-day policy will apply to everyone.
The decision to place the troops under NATO, which is led by an American supreme commander, "is for the purpose of unity of effort," NATO spokesman James Appathurai said. "That decision has been taken in principle, but the mechanics of it need to be worked out."
Asked about the United States changing the 96-hour rule, Appathurai said, "We don't have concerns about it. We understand the operational imperative behind it, but of course, it's also true we have to invest more as a group of nations in ensuring the Afghans handle detainees in an appropriate way."
U.S. Lt. Col. Todd Breasseale, an International Security Assistance Force spokesman, confirmed about 30,000 troops are being transitioned to the assistance force and all will operate under the new rule.
Petraeus said in January that particularly when it comes to high-value targets, "96 hours is not enough if you are going to ensure that they stay behind bars."
"There has to be a process by which the individuals that need to be detained are detained, or that if they're handed off to Afghan officials, that there's confidence in the system working," he said.
Graham, an Air Force reserve colonel who visited Afghanistan last year, said in December the rule puts soldiers in danger.
"The one story I hear told over and over and over again, 'Sen. Graham, this policy makes no sense. It is putting our folks at risk for no higher purpose. It needs to change,'" Graham said. "So the level of frustration is now turning to anger, and quite frankly, here's what's going to start happening -- we're going to take less prisoners. They're going to start shooting these folks."
CNN began examining the 96-hour rule with the case of Roger Hill, a former Army captain, who received a general discharge for his role in the questioning of 12 detainees. Those men, including one who was his trusted interpreter, had worked on his base in Afghanistan.
Hill was the U.S. commander in Wardak Province, in eastern Afghanistan, for much of 2008, and said he feared the enemy was tracking his every move. He suspected an inside threat.
"Out of a 90-man company, we had 30 wounded, to include two killed in action," he said. He said his headquarters sent a team to the base to detect possible spies. The team screened cell phone activity to find out which Afghan civilians working on the base were really working for the Taliban -- and his interpreter was one of them.
Angry and frustrated that the interpreter might be the one sabotaging missions, Hill detained all 12 men in a small building on the base. That's when the 96-hour rule went into effect.
Hill said the rule does not work, and many times dangerous suspects are released because there's not enough time to gather evidence. As the clock ticked toward the 96-hour NATO deadline, Hill made a decision that would cost him his military career.
"I decided that I needed to break protocol and interrogate them myself," he said. "I took three gentlemen outside, sat them down, walked away, and fired my weapon into the ground three times, hoping that the men inside, left to their own imagination, would think that they really needed to talk."
Hill walked back inside. "And sure enough, some of the detainees started to talk," he said.
What the detainees told him was enough to persuade the Afghans to take all 12 men into custody, including Hill's interpreter. Hill said he felt he had made the correct decision to protect his soldiers, but the Army charged him with detainee abuse, leading to his discharge from the military.
The 12 men were released, despite the confession, according to Army investigators. No one knows where they are now and what's they're doing.