Kissinger admitted to South Korean hospital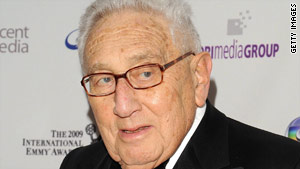 Doctors found nothing seriously wrong with former Secretary of State Henry Kissinger, 86.
STORY HIGHLIGHTS
NEW: Henry Kissinger likely to be released Sunday, doctors say

Former secretary of state complained of stomach pain

Kissinger served under Nixon, Ford; shared 1973 Nobel Prize
Seoul, South Korea (CNN) -- Former U.S. Secretary of State Henry Kissinger was admitted to a hospital in Seoul, South Korea, on Saturday with a stomach virus, a doctor told CNN.
"He is getting hydration and holding his food down," Dr. John Linton of Yonsei Severance Hospital said. "All his signs are normal. We hope to send him on his way tomorrow, but he is an elderly gentleman, so we are watching him like a hawk."
The state-run Yonhap news agency reported that Kissinger, 86, arrived in the South Korean capital Wednesday for a security forum and met with President Lee Myung-bak on Friday.
A special medical team did a check-up and MRI scan and took X-rays, but found nothing serious, staff sources at the hospital said.
Kissinger will likely remain at the hospital overnight and will probably be released Sunday, they said.
Kissinger, who now chairs a consulting firm, served in the 1970s under Presidents Nixon and Ford. He shared the Nobel Peace Prize in 1973 with Le Duc Tho for negotiating a treaty to end the Vietnam War.
Kissinger had triple coronary bypass surgery in 1982 and an angioplasty in New York five years ago.
Journalist Andrew Salmon contributed to this report.