Report of al Qaeda arrest loses favor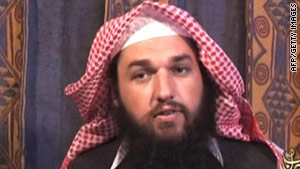 U.S. officials say they have no indication that Adam Gadahn, one of the FBI's most wanted terrorists, has been captured.
STORY HIGHLIGHTS
U.S. counterterrorism officials: No indication from Pakistan of an American's arrest
U.S. government offers $1 million reward for info leading to Gadahn's capture
Pakistani military official Monday said authorities arrested al Qaeda-linked foreign operative
Separately, suicide bomber trips over bench, detonates before reaching military convoy
Islamabad, Pakistan (CNN) -- Authorities in Pakistan were backing away from reports that they had arrested Adam Gadahn, a U.S.-born spokesman for al Qaeda.
Two senior Pakistani government officials said Sunday that investigators in that country had arrested Gadahn, who has been indicted for treason in the United States.
U.S. counterterrorism officials told CNN, however, that they had received no indication from Pakistan that any American had been arrested. One official said there was "no validity" to reports of Gadahn's arrest. Another called the reports "bogus."
On Thursday, a senior Pakistani intelligence official told CNN that Gadahn was not in custody. So did a senior provincial government official who previously had said that Gadahn had been detained.
The U.S. government has offered a $1 million reward for information leading to the capture of Gadahn, who is the first American charged with treason since 1952.
Reports of an arrest came hours after Islamist Web sites posted video of Gadahn praising a November massacre at Fort Hood, Texas. In the video, Gadahn said the Army major charged with gunning down 13 people "lit a path" for other Muslim service members to follow.
Adding to the confusion, a Pakistan military official told CNN Monday that authorities had arrested a foreign operative linked to al Qaeda, but the official did not specifically describe the man as American and gave no further details.

Video: U.S. steps up drone attacks
Rick Snelsire, spokesman for the U.S. Embassy in Pakistan, told CNN Monday that the embassy has not received any information about an American being detained by Pakistani security forces.
In a separate development, a bumbling suicide bomber tripped late Thursday afternoon while trying to attack a military convoy in northwestern Pakistan, killing five civilians and wounding 13, police said.
The suicide bomber was running toward the passing convoy when he tripped over a bench and detonated before reaching his target, said Asif Khan, a Peshawar police official. The attack occurred in Bara Qadeem, an area just outside of Peshawar, the capital of the North-West Frontier Province.
FOLLOW THIS TOPIC