Mixed reports over whether al Qaeda American arrested in Pakistan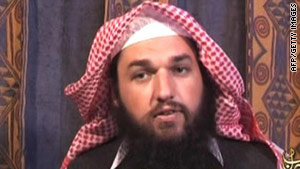 U.S. officials say they have no indication that Adam Gadahn, one of the FBI's most wanted terrorists, has been captured.
STORY HIGHLIGHTS
On Monday, Pakistani military official said foreign operative linked to al Qaeda arrested

Official didn't describe man as American, gave no further details

On Sunday, officials from Pakistan government said Adam Gadahn had been arrested

U.S. officials: Reports that Gadahn is in custody don't seem valid, are a "real head scratcher"

Islamabad, Pakistan (CNN) -- The identity and nationality of an alleged al Qaeda operative arrested in Pakistan remained shrouded in mystery and conflicting information Monday, a day after Pakistani officials said one of the FBI's most wanted terrorists was in custody.
A Pakistani military official said Monday that the man arrested is a foreign operative linked to al Qaeda. The official did not specifically describe the man as American and gave no further details.
On Sunday, a senior Pakistani government official said that Adam Gadahn, a U.S.-born spokesman for al Qaeda, had been arrested. A second senior Pakistani government official later confirmed Gadahn's arrest.
But a U.S. intelligence official said there appeared to be no validity to the reports that Gadahn was in custody. Other U.S. officials also said they had no indication Gadahn had been captured.
U.S. counterterrorism officials said Monday they had received no indication from Pakistan that any American had been arrested. One official said there was "no validity" to reports that Gadahn was arrested. Another called the reports "bogus."

Video: Adam Gadahn arrested?
News reports Monday cited Pakistani officials as saying that a different man, believed to be an American member of al Qaeda, had been arrested.
But U.S. counterterrorism officials said the United States has not heard of the person, who was identified in some reports as Abu Yahya Mujahdeen al-Adam, an American born in Pennsylvania. One official said the reports coming out of Pakistan were a "real head scratcher."
Rick Snelsire, a spokesman for the U.S. embassy in Pakistan, said Monday that the embassy had not received any information about an American being detained by Pakistani security forces.
Gadahn, 31, also known as Azzam the American, was indicted on charges of treason and providing material support to terrorists in 2006. The U.S. government has offered a $1 million reward for information leading to his capture.
He is the first American charged with treason since 1952.
Reports of an arrest Sunday came hours after Islamist Web sites posted video of Gadahn praising a November massacre at Fort Hood, Texas. On the video, Gadahn said the Army major charged with gunning down 13 people "lit a path" for other Muslim service members to follow.
Authorities have targeted several key Islamist figures in Karachi -- the heavily populated port city and financial capital of Pakistan that, for some time, has functioned as a hideout for Taliban and al Qaeda sympathizers.
A city of 13 million -- with some estimates saying there are 100,000 new arrivals a month -- Karachi has seen an influx of Pashtuns from the tribal border region with Afghanistan. Many fled there during fighting and Pakistani military offensives in the Northwest Frontier Province and Waziristan, making Karachi a comfortable place for the Taliban to blend in and count on a network of supporters.
CNN's Reza Sayah, Nic Robertson and Adam Levine contributed to this report.