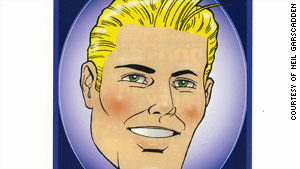 Charisma Man: He gets girls in Japan but Western women expose his geekiness.
STORY HIGHLIGHTS
Charisma Man comic began in Japan a decade ago

The hero is a Western man who has a lot of romantic success in Japan

But he does not enjoy the same success back home

Comics in Japan are read by adults and often make social commentary

Tokyo, Japan (CNN) -- Neil Garscadden glances out across the pub, the music blaring and the taps just starting to flow for the night.
It is a typical Thursday night in Roppongi, the stage of choice for the hero of Garscadden's musings, the comic book character known as "Charisma Man."
Who would need rescuing in a bar, you might inquire? Garscadden said it is quite simple: Japanese girls. But only the good-looking ones, looking for a less than average-looking Western man.
"That's 'Charisma Man,'" Garscadden said. He is the foreigner on the prowl, who is parlaying his Western uniqueness into dating conquests -- to success unimaginable in his home country.
That confounding phenomenon led original writer Larry Rodney to create the Charisma Man comic in 1998. In Japan, comics are not just for kids, but read by adults and often make social commentary.
Garscadden took over the comic strip from Rodney in 1999 until the end of 2002; Glen Schroeder and Wayne Wilson were the artists on it at different times. "Charisma Man - The Complete Collection" was published in 2002, and now Garscadden and his creative team are working on "Charisma Man - The Even More Complete Collection," due out later this year.
The comic strip -- which was published under various writers until 2005 -- has been so popular that in the singles scene in Japan, "Charisma Man" became a catch phrase.

Video: Japan's 'Charisma Man'
"I think the character personifies the phenomenon of geeky Western nerds with beautiful Japanese girls," Rodney said. "Charisma Man puts a face on that trend. It is a social satire of a situation which still continues in Japan."
Blake Kelly, an Alabama native, said he has experienced the power of the "Charisma Man" phenomenon.
"It's definitely an advantage because I stand out more," said Kelly, who hovers above the bar crowd at 6 feet, 4 inches. "So yeah, definitely, people are looking at me a lot more here."
Women are attracted by the novelty of American men, said Hitomi Kakuta, who is dating an American.
"Americans are rare in Japan. That's why they look good, even if they don't."
Bartender Iulian Vitan, who is originally from Europe, is not used to the phenomenon, though he sees "Charisma Men" in action every night.
"It's unbelievable for me because in my country, for example, it never happen, these things."
But Stephanie Greeder is not impressed.
"Yeah, I see that a lot. I always think ... Why? What happened? What's wrong?" Greeder, as a Western woman, is what the "Charisma Man" comic would call, well, kryptonite.
"If Charisma Man sees the Western girl," said Garscadden, "he returns back to his dweeby, former persona. The Western woman can see his true character."
The phenomena may seem amusing in the comic or even watching the pick ups at the bar. But single Japanese man Ryo Mitsumori is not amused.
"It's like I'm the one who's playing at the away game when they're on my home turf."