Report: Battalion leaders 'negligent' in Taliban ambush that killed 13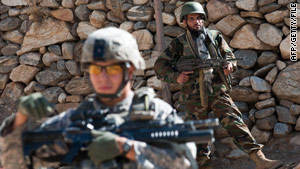 A few weeks after the ambush, coalition forces search for insurgents in the mountains in Afghanistan's Kunar province.
STORY HIGHLIGHTS
Report spreads blame for 13 killed by Taliban in September last year in Afghanistan
"The actions of key leaders at the battalion level were inadequate," report says
Several servicemembers recommended for valorous awards for courage in battle
Washington (CNN) -- The "inadequate" actions of commanding officers, combined with poor intelligence and lack of air and fire support, contributed to more than a dozen coalition deaths during a Taliban ambush in Afghanistan last year, according to a new report.
Thirteen coalition servicemembers, including five U.S. troops, died in the September 8, 2009, attack in Kunar province. An Afghan interpreter was also killed.
"The actions of key leaders at the battalion level were inadequate and ineffective, contributing directly to the loss of life which ensued" during the ambush, said the report, issued by the International Security Assistance Force. It went on to say that the actions of "senior leaders were clearly negligent."
Approximately 100 Afghan National Security Forces and embedded U.S. advisers faced about 100 to 150 enemy forces in Ganjgal village.
The investigation found that senior leaders were not continuously present in the operations center from the first point of contact with the Taliban to the first reports of mass casualties.
"The absence of senior leaders in the operations center with troops in contact in the battle space, and their consequent lack of situational awareness and decisive action, was the key failure in the events" that day, according to the report.
The report recommends that three unnamed senior leaders each receive a General Officer Memorandum of Reprimand, a formal admonishment considered to have very damaging career consequences, according to a Pentagon official.
In a press release, the joint task force noted that because of their courage fighting off the attack, several servicemembers are being recommended for valorous awards.