Suu Kyi aide Tin Oo released in Myanmar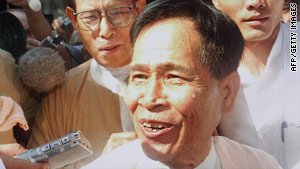 Tin Oo pictured in a file photo dated 2002.
STORY HIGHLIGHTS
Tin Oo of Myanmar pro-democracy party released after six-year house arrest ends
Tin Oo is vice chairman of Aung San Suu Kyi's NLD party
Myanmar's ruling junta has kept Suu Kyi under house arrest for 14 of past 20 years
YANGON, Myanmar (CNN) -- A senior leader of the party of Myanmar pro-democracy leader Aung San Suu Kyi was released Saturday night at the end of his six-year house arrest.
Tin Oo, vice chairman of Suu Kyi's NLD party, was freed after a government officer entered the home and read a release order.
The 83-year-old told reporters waiting outside his home that he would return to work as early as Monday.
Last month, Home Minister Maj. Gen. Muang Oo announced that Suu Kyi would be released in November when her house arrest ends.
The ruling military junta has kept her under house arrest for about 14 of the past 20 years. The junta has ruled Myanmar, also known as Burma, since 1962.
Suu Kyi was sentenced to 18 additional months of house arrest in May after American John Yettaw sneaked uninvited into her house, prompting her to be tried on charges of government subversion.
The 64-year-old had told a Myanmar court that she didn't know Yettaw, was unaware of his plans to visit and didn't report his intrusion because she didn't want him to get into trouble. She was sentenced to additional home confinement after being found guilty of violating the terms of her house arrest.
Suu Kyi has appealed her sentence to Myanmar's Supreme Court.
--CNN's Kocha Olarn contributed to this report.