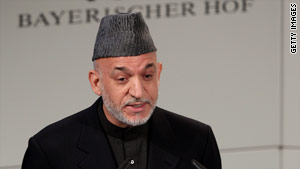 Afghan President Hamid Karzai speaks in Munich, Germany, on Sunday.
STORY HIGHLIGHTS
Hamid Karzai says goal is to have Afghan forces running security by 2014
Afghan president says international forces would still be there as backup
Karzai pledges to tackle corruption; says terrorism still a major concern
Hillary Clinton says Karzai "has really stepped up" and has "laid out a road map"
(CNN) -- Afghanistan is prepared to begin taking over security from international forces in some parts of the war-torn nation by the end of the year, President Hamid Karzai said Sunday.
By the end of his five-year term in 2014, Karzai said, "conditions permitting ... Afghan forces will have full responsibility for security throughout the country, with international forces continuing to serve in the capacity of providing backup and assistance."
Speaking at the Security Conference in Munich, Germany, Karzai said he planned to build up the army and the national police to some 300,000 by 2012.
He also pledged to tackle corruption, calling it a key focus of his second term in office. "We are currently reviewing the structure and capacities of the High Office of Oversight and Anti-Corruption and will make it into a stronger, more responsive organization to lead our fight against corruption," he said.
"In reflecting about the war in Afghanistan today, we see tremendous success in many spheres but overshadowed by failure in one major field: that of defeating terrorism and safeguarding the security of Afghanistan, the region and the world at large," Karzai said. "... The public in Afghanistan as well as in many of your countries are rightfully asking where this effort has led to. They would like to see progress in the war and get a sense of when will, ultimately, the Afghan people themselves take charge of their own security.
"Of course, let it be clear to all that we Afghans wish to see the day sooner rather than later when we are able to defend our borders, [our] villages and towns, on our own, and when young men and women from other countries do not have to shed blood on our soil for our security."
He described the conflict in his country as "a war of necessity."
NATO Secretary-General Anders Fogh Rasmussen also spoke at the conference, saying the organization remains committed to its mission in Afghanistan, but "Afghanistan is a sovereign country. It has to stand on its own feet, and defend itself.
"So where and when conditions allow, we will start to transfer lead security responsibility to the Afghans. And while I don't know when the process will be complete, I know I think it should start this year."
U.S. Secretary of State Hillary Clinton, speaking on CNN's "State of the Union" on Sunday, said she believed Karzai "has really stepped up since his second inaugural address. He laid out a road map there. He is trying to follow that road map." But, she noted, the world is "five or six years into a new nation that has no history of democracy."
Karzai said he welcomes a new approach by Gen. Stanley McChrystal, top commander of U.S. forces in Afghanistan, that emphasizes the need to protect Afghan citizens. "Regrettably, local populations have suffered fairly often as a result of the way the war has been carried out. ... To reverse the negative impact of this, we must make the protection of the lives and property of our people our top priority."
Afghanistan is also working with NATO and coalition partners on the regulation of private security contractors in the country, he said. In addition, Karzai plans to set up a National Council for Peace, Reconciliation and Reintegration which will set up a conference aimed at peace.
"We recognize that, without support from our neighbors, particularly Pakistan, the reconciliation and reintegration program will not bear fruit," he said.
Clinton said the international community should be realistic about the support Karzai needs, but understand that he may not always be in complete agreement with other nations.
"He has asked for help, most recently at the London conference," she said. "But he also has his own ideas, as do the Afghan people. So in any relationship with any country ... you're not always going to get 100 percent agreement.
"But you work with the leaders, and you work with the people," she told CNN's Candy Crowley. "We're not yet turning the corner, but we are, you know, sort of inching our way forward to being able to do so. So I think on balance we are in this with people and countries who are committed to the same outcome."
September's parliamentary elections will be "a huge milestone," Karzai said. "We look forward to free and fair parliamentary elections and expect the Independent Election Commission to work closely with the United Nations and the civil society to ensure the integrity of the elections and prevent irregularities and misconduct."
Karzai emerged victorious from August presidential elections that were marred by widespread fraud. Two months after the vote, a U.N.-backed panel of election monitors threw out nearly a third of his votes, citing fraud. Left short of a majority, Karzai agreed to a runoff with challenger Abdullah Abdullah, but Abdullah withdrew just before the runoff vote.