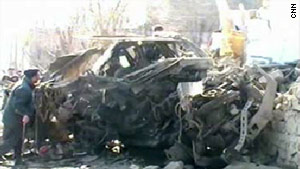 Burnt, mangled metal is all that remains of a vehicle after Wednesday's bomb blast in Pakistan.
STORY HIGHLIGHTS
Pakistani Taliban say they targeted U.S. security contractors
Strike now believed to have been suicide attack, not roadside bombing
Taliban call attack retaliation for deaths of civilians in market in October
U.S. envoy calls Taliban's rhetoric disinformation
Islamabad, Pakistan (CNN) -- The Pakistani Taliban claimed responsibility Thursday for Wednesday's deadly attack, now thought to be a suicide bombing, in northwestern Pakistan that killed three U.S. military service members.
Taliban spokesman Azim Tariq said the strike was retaliation for an October attack by American security contractors on civilians in a Peshawar market.
The Taliban blame Xe, the security contracting firm once known as Blackwater, for that incident, which it says killed "more than 100 innocents." In the past, the Taliban have blamed the United States and the contractors for suicide attacks targeting civilians.
"We know the movement of U.S. Marines and Blackwater guys," Tariq said. "And we have prepared suicide bombers to go after them."
Richard Holbrooke, U.S. special envoy to Pakistan and Afghanistan, rejected Taliban claims that surfaced hours after the strike that Wednesday's victims were security contractors.
"They're certain to say that," Holbrooke said. "That's what they do. They're adept at propaganda and disinformation.
"But the facts are the facts ... and in the appropriate moment, after notification of next of kin and appropriate things, I'm sure their names and their exact rank will be publicly disclosed, as we always do. There's nothing secret about their presence there," he said.
Asked whether the troops were directly targeted, Holbrooke said the U.S. ambassador to Pakistan, Anne Patterson, doesn't think so.
The bomb struck a convoy headed to a girls school that was rebuilt after being destroyed by militants.
Initially, authorities called the blast a roadside bombing, but now three police officials say it was a suicide car bombing.
At least eight people died, including three American troops who train the country's security forces, and scores were wounded, including two U.S. service members.

Video: Americans killed in Pakistan
Saeed Gul, a Lower Dir district police official, told CNN on Thursday the suicide car bomber approached the convoy from the opposite direction and rammed into the third vehicle, the one with the Americans. Gul said the head and other body parts of the suicide bomber, as well as parts of the vehicle, have been recovered.
Mumtaz Zarin, police chief of Lower Dir, and Muhammad Sadeeq, a senior police official, also confirmed that investigators have recovered the body parts of the suicide attacker.
The top spokesman for the Pakistani army said the two wounded U.S. military members have been taken to Kabul, Afghanistan.
The troops are among around 70 Americans training Pakistani forces. The Americans are there at the invitation of the Pakistan Frontier Corps -- drawn from tribes in the border area and considered vital in the fight against militants.
They have been teaching the corps counterinsurgency skills critical to fighting the Taliban and al Qaeda and how to train their own trainers.
A U.S. military official told CNN the dead and wounded were Special Operations forces, part of a "civil affairs" team that provided training in "hold and build operations" such as renovating schools and providing local aid.