Last police agent missing in Mexican border town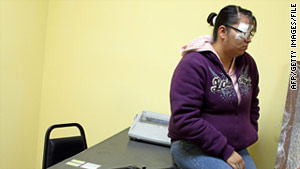 Ericka Gandara has been missing since December 23.
STORY HIGHLIGHTS
The agent was kidnapped from her home, a Mexican official says
The agent lives and works in Guadalupe, on the outskirts of violence-plagued Juarez
More than 12,000 died in drug-related violence in 2010, Notimex reports
(CNN) -- The last agent on the police force in the Mexican border town of Guadalupe is missing, a government official said Wednesday.
The agent, Ericka Gandara, was kidnapped from her Guadalupe home early on December 23, said Arturo Sandoval, a spokesman for the attorney general's office in the state of Chihuahua.
Gandara's family has not filed an official report on her disappearance, Sandoval said, and authorities learned of her disappearance from friends.
There is an official investigation into her whereabouts, Sandoval said.
Guadalupe is located on the outskirts of Juarez, Mexico, across the border from El Paso, Texas, and an epicenter of Mexican drug violence.
Earlier this month, Mexican Attorney General Arturo Chavez included Juarez as one of "three principal poles" of crime in Mexico.
Last June, criminals shot and killed Guadalupe Mayor Jesus Manuel Lara Rodriguez as his wife and child watched. He was a vocal opponent of drug cartels.
More than 12,000 Mexicans were killed in drug-related violence in 2010, the state-run Notimex news agency recently reported.