STORY HIGHLIGHTS
Falone Maxi reluctantly went to her university business class on January 12
When the quake hit, Maxi discovered she was trapped with fellow student Mica Joseph
The study partners bolstered each other though a six-day ordeal while awaiting rescue
Almost a year later, Maxi travels across Haiti to reunite with Joseph; what will she find?
Port-au-Prince, Haiti (CNN) -- The arduous trip begins from a city on fire.
Falone Maxi steps into the white Nissan Patrol, a small nylon bag and an Avis car rental map of Haiti in hand. She is determined to continue her journey with this important trip north, even amid the post-election turmoil in her homeland.
Almost a year after a devastating earthquake, angry Haitians are hurling tragedy's rubble into the streets, setting tires, buildings and campaign signs ablaze.
The political unrest delayed Maxi's trip by a day. But on this gloomy morning in December, the air thick with impending rain, she was up before daybreak to call the driver.
"Are we going today? What time will you pick me up?"
She awoke with the kind of nervous excitement that the wife of a soldier returning from war might feel. She has waited 11 long months to see Mica Joseph, the woman who now means more to her than her own sister.
She has not seen Joseph since that wretched January day when the earth under Haiti heaved violently and the lives of the two women, like those of millions of others, changed.

Haiti recovery stalled?

Haiti: Hope emerges from the rubble

Orphanage director recalls Haiti quake

Haiti orphanage gets makeover
Dressed in skinny jeans, a white T-shirt and silver hoops, Maxi unfolds the map splashed with colorful ads that beckon tourists to a pre-earthquake Haiti. She calls Joseph on her cell phone.
"There is a lot of trouble in Port-au-Prince," Joseph says, concerned. "Will you be able to make it?"
"I'm on my way," Maxi says. "I want to see you."
The car makes its way onto National Road 1, which hugs the coastline before turning inward many miles north. In her most frightening moments in January, Maxi dreamed of the turquoise waters of the Caribbean.
The outward scars of her survival are now covered by her clothes or have faded altogether. But in her mind, Maxi constantly relives six harrowing days.
That's why she is on a quest to see Joseph, the only person who can understand.
Tragedy forges a survival instinct
On the morning of January 12, Maxi did not want to go to her afternoon finance class. She entertained the notion of playing hooky but realized her tuition was due. She reluctantly showered and put on a gray collared shirt, black jeans and sandals.
Maxi rarely wore flashy clothes or a lot of makeup and jewelry, though she could have been a model like her sister Carline. She was tall and slender, with flawless skin. But she didn't like to show off her looks, except for her manicured toenails, polished salmon pink.
She had always wanted to be a nurse but found herself enrolled in business administration at Groupe Olivier and Collaborateur University, known simply as G.O.C.
The private college was hardly cheap for Haiti -- $1,000 a year. Her brother, Frantz, helped pay her tuition and let her stay at his house. It was closer to the university than her family's home.
Before heading out that Tuesday, Maxi kneeled by her bed to pray as she did every morning and night. She didn't go to church much, but her faith in God had kept her going since a morning in October 2001 when, before the sun had lifted to the sky, her father left the house for work.
Maxi adored him, and he spoiled his youngest child with dolls, toys and clothes. He had paid for her to attend the College Methodiste de Frere, a private high school where her favorite subjects were Creole, French and English.
She'd felt safe when her father was around. She knew he would take care of her. Always.
But on that day, as Franck Maxi made his way to work at the El Rancho hotel where he was a gardener, armed men stopped him just a few blocks from his house, demanded his wallet and shot him. He was rushed to the hospital but never recovered.
Maxi was 14 and old enough to know political instability had sparked fear and brutality in Haiti. She understood her father was a victim.
But nothing could lessen her grief. Her tears flowed like a monsoon.
Her mother, Dieusana Joaceus, was forced to take a job as a street vendor to feed her children. Maxi forged a steely interior, a survival instinct in a troubled nation where it's never been easy to be a child, especially one without a father.
Now, almost a decade later, she was thankful her brother was helping her through college, even if today she didn't want to go.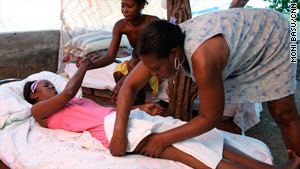 Falone Maxi was rescued from the rubble of her university building six days after the January 12 earthquake in Haiti. She recuperated under sheets pitched in the yard of a friend. She was too afraid to sleep within concrete walls.
Maxi gave in to the housekeeper's insistence that she eat a meal of rice, bean sauce and vegetables before she left. She wasn't hungry, but later, she would be glad she had eaten.
She sauntered down to the bus stop but couldn't find a tap-tap right away to carry her to Nazon, the central city area where her university was located. There was a lot of traffic on the streets.
It was well past 3 when she made it to her fifth-floor classroom. She took a seat by the door to keep from disturbing the class, which had already begun.
She saw Joseph sitting up front. The two women were not close friends, but they were the same age, 23, and often did homework together. Sometimes, they took the same tap-tap home.
Maxi liked the way Joseph spoke in her Capois accent. Joseph had grown up in the border town of Ouanaminthe, near Cap Haitien, where Creole is spoken with a different lilt.
Maybe one day, Maxi thought, they would get to know each other better.
At 4:53 p.m., a student was at the blackboard, and Maxi was lost in her notes when the floor began shaking. It stopped for a few seconds, then the entire building rocked. Ceilings and walls fell.
Maxi's classmates and teachers were screaming. People ran in every direction. Dust clouded Maxi's vision as she sprinted toward the stairwell. She thought the building was collapsing because of shoddy construction. This had happened a while ago at another school.
One of her sandals flew off her foot, and she fell. Then, five floors of the building collapsed on her. Maxi's world went dark.
Trapped under layers of pancaked concrete, mortar and metal, she couldn't move. She lay on her back, inhaling the chalky air. After a few minutes, she heard movement around her.
"Who's that next to me?" she asked.
"It's me, Mica."
A sister keeps vigil
When Maxi failed to return home that day, her sister grew worried.
Carline Joaceus frantically called her little sister's cell phone, but there was no response. She rushed to the G.O.C. campus and stood atop a wasteland of rubble, wondering if Maxi lay underneath.
More than 200,000 people were dead. Countless others were missing. All around the city, government workers scooped up bodies and unceremoniously dumped them in mass graves or burned them on the streets.
Joaceus watched rescue teams extract the buried. For the next few days, she kept vigil from morning to night, praying her sister would be pulled out alive. A fellow student said Maxi had been in class that day. She was surely trapped.
Joaceus imagined her sister's rescue over and over again. Other miracle rescues were taking place in Port-au-Prince. Eventually, nearly 140 people were pulled out alive. Babies and adults, the feeble and the strong -- all had survived for days under the rubble.
Joaceus described Maxi -- young, thin, pretty -- and asked rescuers if they remembered someone like that. Her name was not on any of the lists of people sent to hospitals.
Sometimes, rescuers showed Joaceus identification cards plucked from the rubble. "Is this your sister?" they asked.
"No, that's not her."
Whenever a body was discovered, she rushed over to look. None was her sister.
But that was no surprise. She knew her sister's spirit. Maxi was alive.
Prayers to God and to a father
Coated by debris and in pitch darkness, Maxi was relieved she was not alone. But she and Joseph were trapped between chunks of building, unable to extricate themselves.
"I can't move," Joseph said, crying. She was pinned down just above Maxi.
Maxi reached out and felt the blood on Joseph's face, her body. She felt blood on her own hair.
There was no signal on Maxi's cell phone, but she used the LCD light to see what was around her. Above were the feet of the dead. In time, rats would appear to gnaw on the flesh.
She heard voices. They belonged to others who were buried alive. Some got crazy as the days went by until, one by one, they fell silent.
Maxi and Joseph maneuvered themselves so they would not be smothered by concrete. Maxi bent her legs over her chest to create breathing room. To reserve energy, they took turns calling out to the outside world.
"We're alive, we're alive," they shouted. "Help us."
When they heard rescue teams, they knew it was daytime. When the voices went away, Maxi guessed that it was night.
They passed time by talking about boys. Or what they would eat when they were rescued -- rice and peas, macaroni, ice cream. Oh, what they would do for an iced Malta, their favorite soft drink.
They memorized each other's cell phone numbers and promised to always stay in touch.
Maxi dreamed about returning to the ocean. Her brother had taken her for a seaside holiday to Jacmel a few years earlier. She had let the sun kiss her skin and tasted the salt of the ocean. And even though she did not know how to swim, she had braved the waves on a Jet Ski. It had been paradise after the hustle and bustle of Port-au-Prince. She longed to breathe that air again.
She wanted to dance again at carnival, listen to Celine Dion's mellifluous voice and play tennis on her Wii.
Occasionally, the earth trembled. With every aftershock, more concrete fell.
Joseph was in unbearable pain. Her left leg was stuck under the concrete, and she could not move. Beneath her, Maxi shifted and settled herself, using a hard slab as a pillow.
When the phone light finally gave out, Maxi's world turned the color of a starless sky.
As the air turned foul, Maxi tore a page from a notebook and stuffed it up her nostrils. It was not enough to block the stench of human decay.
She was hungry, thirsty. She collected her own urine with her hands and put it to her lips.
"If we were going to die, God would have taken us right away.
--Falone Maxi encourages Mica Jospeh during their ordeal
Remembering she had an apple in her bag, she reached inside to find it in pieces, crushed by the concrete. She fished them out and shared them with Joseph. The women savored each piece as though it were filet mignon. It was all that they would eat for six days.
"We are going to die," Joseph said.
"No, Mica," Maxi replied. "Don't give up. If we were going to die, God would have taken us right away. Have faith, Mica. The Lord will keep us alive."
They held hands and prayed together. "Our Father, who art in heaven."
The inner strength forged in childhood kept Maxi going. Under the rubble, she asked her father to watch over her from heaven.
"Give me strength," she whispered.
She held Joseph's hand tightly and rubbed her back to soothe her. She believed God had put them there together for a reason. They were going to be each other's salvation.
They would feel the warmth of the Caribbean sun again. Together.
On day 6, a rescue
"Falone Mathieu! Falone Mathieu!"
After six days, Joaceus heard her sister's first name being called out. The surname was wrong but surely, it had to be her.
She rushed to an opening in the rubble and instantly recognized her sister's black jeans, her pink nails. Maxi was badly bruised and cut. She was squinting, the sunlight too much to bear. Fresh air filled her lungs, and the coolness of water trickled all the way down to her belly.
She was severely dehydrated, and her blood pressure had plunged to 60/20. She was given first aid, and a rescuer stopped a passing CNN crew in the middle of the street and asked for help. Maxi was placed in the back of the CNN pickup and whizzed through a city in ruin to a makeshift clinic.
She doesn't remember many details of her rescue. She didn't even know whether Joseph made it out safely. She knew only that she could see, standing in the distance, another person who had not given up, her sister.
Dreams and nightmares
National Road 1 crosses the Artibonite River and passes through several coastal towns. At a rest stop, Maxi pulls out her map to determine how much farther it is to Ouanaminthe.
"We are in Gonaives," she tells Joseph on the phone.
"Wow," Joseph replies. "You are already half way."
But just outside the city, the car slows as the road lined with banana and papaya trees begins snaking upward into the mountains.
Maxi rolls down the window. The clouds hang low, and she can see her own breath. The cool, damp air smacks her face.
She can't remember the last time she was in the mountains. She likes the smell here. After being buried for six days, she relishes being high up and free.
"Can we stop to take a picture?" she asks.
Maxi has few photos of her life, none of her father. And none that show what happened on January 12, except for the video of her rescue, which she can't bear to watch. Nor does she feel comfortable inside a concrete house. The walls close in on her; it feels as though everything could collapse in a split second.
After her rescue, she had been whisked to several hospitals until doctors finally determined that her pelvis was broken. Her condition was not critical. She was sent home and put on bed rest.
Maxi slept under sheets pitched in the yard of a friend instead of inside a home with deep cracks and fissures. Her mother put fresh linens on a mattress on the ground, among chicken scurrying about the rocky dirt. Her sister rubbed cream on her face, combed her hair, helped her use a bed pan.
Unable to walk then, Maxi lay on her back, devouring pureed food and Harlequin romances. She loves tales of poor girls meeting rich, handsome men and living happily ever after. They are the stuff girls like Maxi dream of.
At night, she had nightmares. She didn't know whether she could live the rest of her life in Haiti in buildings prone to fall.
Four days after Maxi left the hospital, she dialed Joseph's number for the first time, not knowing what she would hear.
Joseph's uncle, Bedel, picked up the phone. Maxi learned her friend was hospitalized with serious injuries.
"She's going to be OK," Bedel Joseph assured Maxi. He could not bear to tell her everything.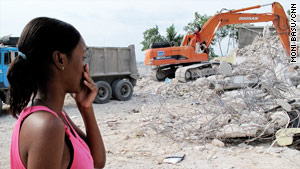 In May, after her body healed, Falone Maxi returned to the university. She wanted to see the place of her ordeal before it was cleared.
In the spring, Maxi learned to walk again and after many weeks, she wanted to return to the university. She needed to see the evidence of her ordeal before it was removed forever.
On a warm May day, she pressed her face to the window of the car, gazing outward at the damage -- building after building razed to the ground. She had seen photographs of what the earthquake did to Haiti. Now she was seeing it firsthand.
The national palace, the symbol of her nation, was damaged beyond repair and slated for demolition. The Champs de Mars plaza, where Maxi liked to stroll with her friends, now held a massive tent city.
At the G.O.C University, she stood silently before the rubble, in awe of its enormity. How had she survived this? It almost seemed like it had happened to someone else.
She cried that day, clutching her face in her hands, pretending that it was the blowing dust that bothered her.
She wished Joseph could have been there with her.
A therapist encouraged her to talk about her ordeal. But she didn't really feel like telling the story over and over just so others could tell her they were sorry.
Instead, she texted Joseph or spoke to her every day.
Joseph had returned to her family in the northern town of Ouanaminthe. She spent many days inside, alone.
Her mother was a street vendor who worked long hours. Her sister didn't like to spend time at home. Joseph struggled to pick up the pieces of her shattered life.
Maxi knew her friend stayed awake at night, reliving everything.
"Everyone is sleeping. The house is dark. I can't sleep," Joseph told her.
"Have someone make you some tea," Maxi said. "That will help you rest."
Every phone call ended with: "I love you."
Finally, a reunion
Maxi cannot sit still as the headlights shine on a street sign that says Ouanaminthe.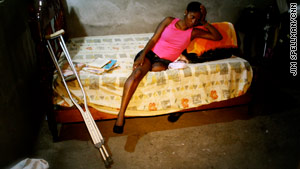 Maxi's classmate, Mica Joseph, returned to her home to her family Ouanaminthe, Haiti. The two women survived together and wanted to see each other again.
The town, a stone's throw from the Dominican border, is small and quiet, unlike Port-au-Prince. The driver asks for directions at street corners. Everyone knows which house belongs to the young woman who survived the earthquake.
As the car turns onto an unpaved lane, Maxi sits upright, her eyes straining to catch a glimpse of her friend.
She has awaited almost a year for this. Her arms are trembling, her chest heaving.
Joseph stands outside a sliding green metal gate in front of her house. The fuchsia of her tank top is jarring against the drab of concrete and dirt.
Maxi begins to understand why Joseph's father, distraught over his daughter's plight, once told her: "It would have been better if you had died."
Joseph turns toward the car, metal crutches under both arms. Her left leg is gone, amputated just below the hip.
Maxi wipes tears from her eyes and runs toward her friend. The embrace is not long enough. Joseph strokes Maxi's face and forehead like a mother would a long-lost child.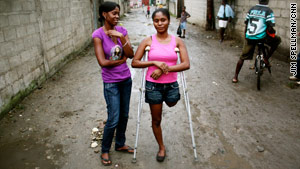 Maxi journeyed to northern Haiti to see Joseph, the only person who could understand her ordeal. They were not friends previously, but after surviving the earthquake together, they had become like sisters.
They sit on the front veranda. Maxi feels what is left of Joseph's leg. Under the rubble, she had suspected her injury was severe -- she had smelled the gangrene.
It's unfair, Maxi thinks, that she should be physically well while Joseph suffers. She knows it is particularly difficult for the disabled in Haiti, where there are no special facilities and few accessible places. Joseph has a hard time even getting on a bus.
"I used to have friends here. But no one comes to see me anymore," she tells Maxi.
Maxi couldn't save Joseph's leg, but she feels compelled now to do all she can to return joy to her friend's life.
The two recall those six awful days.
"You wouldn't let me comb your hair," Joseph says. "You were afraid it would all break."
"Well, you peed on me," Maxi says.
"I'm sorry," Joseph says. "I had no choice."
Maxi laughs.
It is the first time she is able to remember without crying.
FOLLOW THIS TOPIC