Argentina's president to send guards to quell capital unrest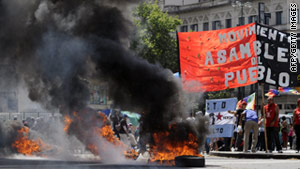 Protesters wave flags and burn tyres at 9 de Julio Avenue in Buenos Aires on December 20.
STORY HIGHLIGHTS
Forces are being deployed throughout the sprawling city
The move follows clashes between authorities and homeless squatters
Security is a right, says Cristina Fernandez de Kirchner
(CNN) -- Argentina's president has said she will deploy 6,000 border guards to police the streets of the country's capital amid a wave of protests.
Authorities and homeless squatters clashed in a city park earlier this month, leaving three people dead and 14 others injured. The group had been demanding the government do more to provide housing.
"Security is the right of all Argentine citizens," said Cristina Fernandez de Kirchner, according to a statement from her office Monday.
The president said 6,000 border guards would be deployed in the new move, dubbed "Operation Sentinel." Forces are expected to fan out across the city's various districts.
Fernandez attributed insecurity to economic and social inequality and to organized crime groups that take advantage of people's poverty.
"It's clear that you can't move forward in the same way when you are having to deal with organized crime and protests," she said.