Kidnapped Mexican politician freed after 7 months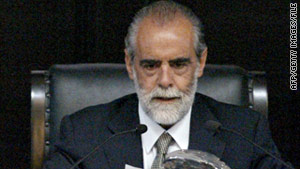 Mexican politician Diego Fernandez de Cevallos, pictured in 2005, disappeared in May near his central Mexico ranch.
STORY HIGHLIGHTS
NEW: Diego Fernandez de Cevallos: "I am strong"
He is back at his home
Fernandez de Cevallos was abducted on May 14; it is unclear who kidnapped him or why
Mexico City, Mexico (CNN) -- Diego Fernandez de Cevallos, a prominent Mexican politician kidnapped in May, was released and back at his home Monday.
"I am fine, thanks to God. I am strong and my life will continue to be the same," he told the crush of reporters gathered outside of his home in Mexico City.
"As a man of faith, I have already forgiven them," Fernandez de Cevallos said about his kidnappers. "But as a citizen, I believe the authorities have a job to do."
Fernandez de Cevallos, a former senator and congressman and a close ally of Mexican President Felipe Calderon, disappeared on May 14 near his ranch in the state of Queretaro in central Mexico. Blood and other signs of a struggle were found, police said.
Federal prosecutors had been investigating the case but later backed off at the request of the ex-senator's family members.
Sporting a white beard, Fernandez de Cevallos seemed thin and much older Monday than in previous public appearances.
He was a presidential candidate in 1994. He belongs to the same political party as Calderon, leading some officials to speculate that he may have been abducted by narcotraffickers.
More than 30,000 people have been killed since Calderon declared war on the drug cartels shortly after taking office in December 2006.
Fernandez de Cevallos' conservative politics also have led others to speculate that leftist guerrillas may have abducted him.
FOLLOW THIS TOPIC