Mexico violence follows woman to grave
STORY HIGHLIGHTS
Marisela Escobedo was killed last week
On the day of her funeral, her boyfriend's business was burned down
She was an outspoken critic of the justice system
(CNN) -- On the day of the funeral of a prominent social activist in Chihuahua, Mexico, a business she had ties with was burned down by a group of armed men, according to witnesses.
A four-alarm fire was reported Saturday morning at the lumber yard belonging to the boyfriend of activist Marisela Escobedo in Ciudad Juarez. Witnesses said gunmen doused the building with gasoline minutes before the blaze started.
Escobedo was killed Thursday outside of the state capitol in Chihuahua City while trying to collect signatures, said Carlos Gonzalez, spokesman for the Chihuahua state attorney general's office.
Manuel Monge, Escobedo's boyfriend, was at the funeral at the time of the incident, but his 37-year-old brother, who was at the business, was kidnapped, witnesses said.
Authorities don't have evidence that the fire was connected to the funeral, but there is speculation to that effect, Gonzalez said. Like many businesses, the lumber yard was the victim of extortion and when he failed to pay, it was burned, Gonzalez said.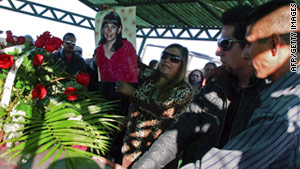 Relatives of Marisela Escobedo stand next to her coffin during her funeral in Ciudad Juarez, Mexico, on Saturday.
Local activists say criminals are targeting the Escobedo family -- and activists like her -- for spending the past two years seeking justice for the killing of their daughter.
The daughter's boyfriend had confessed to the crime, but was released by a judge for what he called lack of evidence. The decision was eventually annulled and a sentence was issued for the man, but by then he was in hiding.
Over the past two years, Escobedo publicly denounced the justice system of the state of Chihuahua for releasing the man. Last week, Escobedo spoke out again after receiving death threats, challenging those threatening her.
"If you are going to kill me then do it in front of authorities so you feel shame," she said during a briefing with local reporters.
Journalist Arturo Chacon in Juarez contributed to this report.
FOLLOW THIS TOPIC