Officials asks Haitian president to delay election results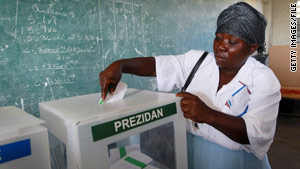 A voter casts her ballot in Haiti's national election on November 28 in Port-au-Prince.
STORY HIGHLIGHTS
Election results are due out Monday
Delay would allow more time to verify results
Protests erupted when preliminary results announced
(CNN) -- International officials have asked Haitian President Rene Preval to delay the announcement of final election results which were due to be out Monday.
Jode Miguel Insulza, secretary general of the Organization for American States said the delay would allow an OAS team of technical experts to help with the verification of preliminary results.
Preval had asked the OAS for assistance with verification on Wednesday.
The OAS has been involved with high-level meetings in Haiti with the top vote-getters as well as Haitian electoral and civil society organizations.
Protests, sometimes violent, erupted after the Provisional Electoral Council announced preliminary results that put former first lady Mirlande Manigat in a runoff with Jude Celestin, the candidate backed by the increasingly unpopular Preval.
Popular musician Michel Martelly came in behind Celestin and was thus ineligible to participate in a January 16 runoff.
Martelly told CNN he believed he had won and accused the electoral council of manipulating votes in order to boost the government-backed candidate.
His supporters took to the streets chanting his name and demanding that the government respect the will of the people.
The electoral chaos adds to the instability in Haiti, which has already suffered a massive earthquake, a hurricane and a cholera outbreak this year.
OAS Assistant Secretary General Ambassador Albert Ramdin visited Haiti earlier in the week and said an urgent solution was needed to stave off further unrest.
He said the Haitian electoral council must give OAS experts unfettered access so that they can make independent assessments of the balloting.