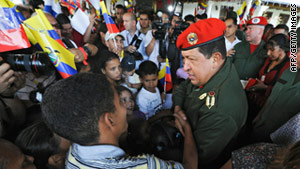 Venezuelan President Hugo Chavez greets people affected by rains at Fuerte Tiuna military base on Tuesday.
STORY HIGHLIGHTS
Pro-Chavez, lame-duck National Assembly passing legislation
New legislators are to be seated January 5
Critics say Chavez is using the interregnum to consolidate power
(CNN) -- Journalism advocates and the U.S. government voiced opposition Wednesday to legislative moves in Venezuela that they said could lead to draconian restrictions on the news media and further strengthen the position of President Hugo Chavez.
"The Venezuelan legislature should reject proposed legal reforms that would harm freedom of expression," the Committee to Protect Journalists (CPJ) said in a statement.
It cited legislation being considered by the National Assembly that would regulate Internet content and that could, it said, force Globovision, the nation's last broadcaster still critical of the government, to go off the air.
A bill affecting the 2004 Law on Social Responsibility in Radio and Television would expand broadcast regulations to the Internet, CPJ said. "It proposes to restrict access to websites if they are found to distribute content that incites violence against President Hugo Chavez, disrespects public officials, provokes panic or social disorder, or attacks 'good habits,' without specifying what this means," the group said.
It would also restrict the showing in electronic media of adult content -- including violence, sexual content and soap operas -- to shows after midnight, CPJ said.
"We strongly reject these provisions, which represent yet another attempt by President Chavez to stifle media freedom and control the flow of information," said Carlos Lauria, CPJ's senior program coordinator for the Americas. "We urge the National Assembly to ignore these proposed reforms that would make a mockery of Venezuela's stated commitment to freedom of expression."
CPJ cited Article 29 of the social responsibility law as broad and vague. The article bars the broadcast of messages that "promote, defend, or incite breaches of public order" or "are contrary to the security of the nation."
The group said it has research that shows that Venezuelan broadcasters have canceled critical news programming to comply with the law.
Under another proposed change, the National Telecommunications Commission (CONATEL) could require that Internet service providers limit access to websites, CPJ said. "This is intended to control websites that post critical comments of the government," said Miguel Henrique Otero, editor of the Caracas-based daily El Nacional.
"In general, we believe that they are simply restricting liberty of the press to have greater liberty to operate with a form of impunity," said Ricardo Trotti, press freedom director at the Inter-American Press Association in Miami, Florida, about the Chavez government.
He accused Chavez of trying to eliminate the checks and balances normally applied by the Congress and the news media. "The congress because he will operate without it," Trotti told CNN in a telephone interview. "He's restricting the press and also the people -- through the Internet" restrictions.
But pro-Chavez lawmaker Manuel Villalba dismissed such concerns. "What we're doing is legislating, which is done in all countries of the world," he said. "There's no censorship -- but you have to be responsible for what you put on the Internet."
Earl Herrera, a legislator from Chavez's United Socialist Party, defended the proposed changes.
"In almost all countries there are rules with respect to what is transmitted online," he said Tuesday. "For digital journalism, what we are going to do is include some rules. There is no censorship in any way because these rules are constitutional."
Another bill being considered by the assembly would force owners of TV and radio stations to re-register in person with CONATEL or face losing their license, CPJ said.
That would be tough for Globovision President Guillermo Zuloaga to do, since he left Venezuela in June after a warrant was issued for his arrest in a case related to alleged financial improprieties involving his car dealerships.
He has denied wrongdoing and accused the government of trumping up the charges to shut down his station.
Luisa Chiossone, the secretary general of the Venezuelan Press Bloc, laid out a pessimistic view. "All liberties are threatened," she told CNN in a telephone interview from Caracas. "Once these law are approved, liberty in Venezuela ends. That's my opinion."
Critics say Chavez supporters are trying to push through the proposed changes before January 5, when the incoming parliament is to be seated. Members of the ruling United Socialist Party lost a number of seats in elections held in September. But the current lame-duck congress -- most of whom favor Chavez -- is still passing legislation.
Chavez won preliminary approval Tuesday of a law that would allow him to rule by decree for up to a year, thereby extending his hold on power.
He said he made the move in order to help flood victims, thousands of whom have been left homeless by torrential rains. On Wednesday night, he toured a refugee center in Caracas -- covered live by Venezuela Television, but not by Globovision.
Chavez's moves drew condemnation Wednesday in Washington. "You know, this is the fourth time that President Chavez has employed one of these decrees," State Department spokesman P.J. Crowley told reporters. "He seems to be finding new and creative ways to justify autocratic powers."
He added, "What he is doing here, we believe, is, you know, subverting the will of the Venezuela people."
Still, Chavez remains popular among many Venezuelans. Since he assumed office in 1999, the now 56-year-old president has focused on health and education programs, paid for by petroleum exports, which represent about 90% of the country's export earnings.
FOLLOW THIS TOPIC