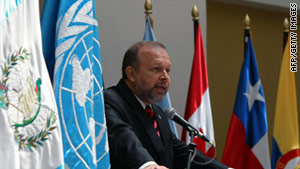 Francisco Dall'Anese is the head of the International Commission Against Impunity in Guatemala.
STORY HIGHLIGHTS
Carlos Vielmann is wanted in connection with extrajudicial killings in Guatemala
He is the country's former interior minister
The head of a U.N.-backed commission says new photos link him to the killings
Vielmann says the case should be heard in court, not the media
(CNN) -- Photographs obtained by a United Nations-backed justice group in Guatemala could be the smoking gun in a case against a former interior minister and other officials accused of extrajudicial killings, an official said.
Francisco Dall'Anese, the head of the International Commission Against Impunity in Guatemala, presented the photographs on CNN en Español Wednesday. They show images of the 2006 uprising at El Pavon prison in Guatemala, in which seven inmates were killed before police regained control of the complex.
The Interior Ministry and police said at the time that the prisoners were killed during a violent confrontation with prison authorities. However, a report by the Guatemalan Human Rights Ombudsman's Office concluded the prisoners had been executed.
Former Interior Minister Carlos Vielmann is wanted in Guatemala in connection with the killings. He has also been accused of ordering the killings of three inmates who escaped from El Infiernito prison in 2005.
Vielmann -- who is now living in Spain, where he also faces a legal process against him relating to the same charges -- has denied any wrongdoing and has said the case against him was built on the testimony of unreliable witnesses.
But the photographs "are physical evidence," Dall'Anese said.
Some of the images track the fate of Luis Zepeda, one of the leaders of the inmates. The photos show Zepeda, wearing a tan shirt, disrobing as police look on and hold him -- evidence, Dall'Anese said, that Zepeda was not fighting with authorities, but was under their control and following their orders.
Later photographs show Zepeda shot dead, wearing a blue shirt. There was no blood on the clothes, Dall'Anese said.
Other photos show another inmate who has been shot to death, but his clothing had no bullet holes. In a trial, this could be proof that the inmate was killed while naked and then dressed in fresh clothes, the commission chief said.
The evidence suggests that there wasn't a ferocious, 90-minute gun battle, as officials said at the time, Dall'Anese charged.
Images of the prison buildings show bullet holes, but in patterns that don't suggest a wild shootout, he added. In one photo, a window with several window panes is shown, with each pane having exactly one bullet hole, squarely in the middle of the frame.
"In a gun battle, we would not expect to find such exact marksmanship," Dall'Anese said.
Finally, other photos place Vielmann at the scene on the day the killings happened, standing with prison officials.
The photos have not been presented in court because a trial date has not yet been set for Vielmann.
Vielmann had been arrested by Spanish authorities, but a court in Guatemala issued a protective order that barred an extradition request from going through. In the meantime, Spanish authorities began their own legal process against him, but then released him because there was no extradition request.
The protective order was overturned last week by the Guatemalan Supreme Court, and the foreign ministry moved quickly to finally file the extradition request. It was unclear if Vielmann would be rearrested.
Vielmann declined to be interviewed for this story.
In an e-mail sent through his attorney, Vielmann said he wants legal issues to be discussed in front of judges, not in the media. Critics say the International Commission Against Impunity in Guatemala spoils its targets' presumption of innocence by airing evidence publicly before a trial.
Dall'Anese stopped short of declaring that the photos prove Vielmann's guilt, saying that question must be left up to a judge.
The case is one of the highest-profile presented by the commission, and one of the most dangerous. The commissioner said between three and five potential witnesses in the case are dead, and may have been killed by those who didn't want their testimony to be heard in court.
The United Nations established the International Commission Against Impunity in Guatemala in 2006 to investigate corruption and political violence. More than 200,000 people have been killed in the nation since 1970, mostly as a result of organized crime, drug-trade violence and a 36-year civil war that ended in 1996.
There were 6,451 slayings in Guatemala in 2009, in which 230 verdicts were achieved, the commission reported. That means that more than 96 percent of the killings last year were not resolved.
The commission's work shows that "there are no super-citizens who are above the law," Dall'Anese said.
CNN en Español's Patricia Janiot, Fernando del Rincon and CNN's Rafael Romo contributed to this report.
FOLLOW THIS TOPIC