Peruvian Nobel Prize winner slams presidential candidate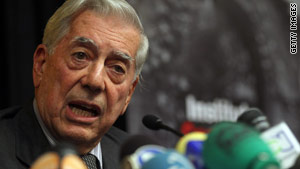 Mario Vargas Llosa criticized presidential candidate Keiko Fujimori, daughter of the disgraced former president of Peru.
STORY HIGHLIGHTS
Mario Vargas Llosa received the Nobel Prize for Literature
He said he would try to impede victory by Keiko Fujimori
Vargas Llosa lost a presidential race to her father in 1990
Alberto Fujimori is in prison for corruption and human rights abuses
(CNN) -- Peruvian novelist Mario Vargas Llosa is injecting his cachet as a newly minted Nobel Prize winner into the political sphere, in a strong criticism of the political aspirations of the daughter of a disgraced former president.
Keiko Fujimori, a congresswoman and daughter of ex-president Alberto Fujimori, is one of the leading candidates in next year's presidential election, according to polls.
"If the daughter of the dictator who is condemned to prison for being a criminal and a thief has the possibility of becoming the president of Peru, I will be one of the Peruvians who will go out to try to impede it through all the legal channels available," Vargas Llosa said Monday.
"I think that would be a real catastrophe for our country," he added.
Vargas Llosa, who lost to Alberto Fujimori in a runoff in his previous presidential campaign, received the Nobel Prize for Literature last week at a ceremony in Norway.
According to various polls published in Peru, Keiko Fujimori is currently the leading or second-place contender in the race.
Her father was president of Peru from 1990 to 2000, a period that was highlighted by the defeat of terrorists who disrupted society, but stained by an authoritarian streak and human rights abuses.
Alberto Fujimori fled Peru in the midst of a scandal involving his spy chief, and was extradited years later back to his country to face trial. He was convicted in four separate trials for a litany of corruption and human rights abuse charges. Among the sentences he received was a 25-year prison term for authorizing the operation of a death squad responsible for killing civilians.
Representatives for Keiko Fujimori said she would respond to Vargas Llosa's comments Tuesday.
CNN en Español's Maria Elisa Callejas contributed to this report.
FOLLOW THIS TOPIC