Mexican doctors protest border city violence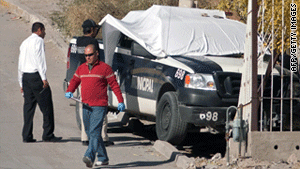 Policemen investigate the crime scene after three police were killed in Ciudad Juarez on December 8.
STORY HIGHLIGHTS
Doctors say they are increasingly the victims of violence
One says they want to deny treatment to criminals
A group demands that more federal agents investigate unsolved crimes
The protest occurs in Ciudad Juarez, across the border from El Paso, Texas
Ciudad Juarez, Mexico (CNN) -- In one of Mexico's most violent cities, it was a startling scene: clinics closed, with no doctors to treat patients.
Doctors in Ciudad Juarez, Mexico, said Monday that they would stop working for 24 hours to demand that the government do more to deal with the violence ravaging their city.
"Many of us have been asked to save the lives of burglars, extorters and kidnappers of our own colleagues. It's outrageous that we are saving the lives of people that are attacking and killing us, and we are going to look for the legal means to avoid doing that," said Alejandro Flores, a member of the Citizens' Committee of Ciudad Juarez Doctors.
Banners hanging outside hospitals and clinics in Ciudad Juarez -- located across the border from El Paso, Texas -- read: "Stop impunity. We demand justice."
"We know that patients have the right to healthcare, but nonetheless, we the doctors cannot offer our services if we live trapped in our homes for fear of going out to work, if we are kidnapped, or even worse, if we lose our lives, killed with impunity," a statement from the doctors' organization said.
The statement noted the recent deaths of three colleagues -- one who died in a car bomb explosion, and two others who died after being kidnapped.
The group also issued a list of demands that they asked authorities to meet within seven days, including releasing more information about an investigation into the recent killings of two doctors and bringing more federal agents to the city to investigate unsolved crimes.
"The doctors feel that there is no protection. There are no guarantees of security from the police or the government," attorney Angel de la Torre said.
Journalists Arturo Chacon and Edgar Roman contributed to this report.