Haitian presidential candidate calls for entirely new vote, not runoff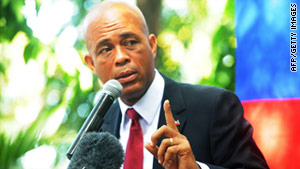 Michel Martelly has called for Haiti's electoral council to be dumped. "We do not trust that process," he said.
STORY HIGHLIGHTS
Haitian presidential candidate Michel Martelly says a new vote should be held
The election should be repeated with the entire slate of 17 candidates, he says
Martelly finished third in the main vote count of the November 28 election
Martelly alleges fraud; international community voicing serious concerns
Port-au-Prince, Haiti (CNN) -- A popular presidential candidate whose supporters took to the streets of Haiti to protest what they deemed a fraudulent election proposed Tuesday that a fresh round of voting take place.
Musician Michel Martelly, known affectionately as "Tet Kale," or bald head, rejected a runoff and said the election should be repeated with the entire slate of 17 candidates. He also said the troubled nation's electoral council should be dumped.
"We do not trust that process," he said in an interview with CNN. "We do not believe in going back to the same judge who has already condemned us. I believe everything has been done to ensure that we lose again when we never lost from day one."
A week ago, the Provisional Electoral Council put Martelly in third place behind former first lady Mirlande Manigat and Jude Celestin -- the candidate backed by Rene Preval, the unpopular outgoing president -- in results from the November 28 vote.
No candidate won a majority, the council said, therefore forcing a runoff set for January 16. If the results stand, Martelly would not be in that runoff.
But Martelly alleged fraud and said he believed he had won the election. The international community, including the United States and the United Nations, voiced serious concern over potential vote-rigging.
The preliminary results sparked demonstrations, sometimes violent, on the streets of Port-au-Prince. Thousands of angry Haitians marched and the campaign headquarters of Celestin was set ablaze.
Historian and radio commentator Michel Soukar agreed that the election council has to be disbanded in order for a free and fair election to take place. He said the electoral system was manipulated to keep Preval's party in power.
"Even with Jesus Christ in the (electoral council), there would be fraud," Soukar said. "Preval has to leave. He is the problem."
Martelly rejected the notion of a runoff that would include the top three candidates.
He said since the vote was marred, every candidate deserved another chance to run again. But even Martelly conceded that it would be difficult to hold a whole new election that cost about $29 million.
FOLLOW THIS TOPIC