Mexican official: Top cartel leader could be casualty in clashes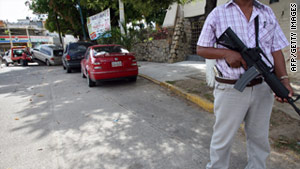 Mexico has sent thousands of federal troops into Michoacan State after declaring a crackdown.
STORY HIGHLIGHTS
Clashes continue after a gunbattle Wednesday
Suspected members of Mexico's La Familia cartel burn vehicle to block highways
Spokesman: Reaction suggests police are closing in on cartel leaders
Two minors and federal police officer among those killed, officials say
Mexico City (CNN) -- A top drug cartel leader may have been killed in clashes with police this week, a Mexican government spokesman said.
Fighting between federal authorities and suspected members of Mexico's La Familia cartel began Wednesday in the central Mexican state of Michoacan, national security spokesman Alejandro Poire told reporters late Thursday. A day later, an operation to find those responsible continued, he said.
Poire said unconfirmed preliminary reports indicate that the cartel "has sustained significant losses, including possibly the death of one of those leaders."
Two minors were killed during the operation when gunmen shot at civilian cars and later used the vehicles as barricades, Poire said. Nearby, suspected members of the cartel set trucks and buses ablaze on highways to block approaching federal police.
A federal police officer was also among those killed in the clashes, police spokesman Jose Ramon Salinas said.
This organization has ravaged the population of the state of Michoacan since the beginning of this decade.
--Govt. spokesman Alejandro Poire
"The way these criminal groups have tried to protect their escape in the operations yesterday and today suggests that authorities have located and are in close pursuit of leaders of the highest level of La Familia," Poire said.
Gunfire from high-powered weapons greeted police when the operation began Wednesday in the municipality of Apatzingan, Michoacan, Poire said. From there, the violence escalated.
La Familia's stronghold is in the state of Michoacan -- also the home state of Mexican President Felipe Calderon, who sent thousands of federal troops there after declaring a crackdown on cartels at the beginning of his presidency.
"This organization has ravaged the population of the state of Michoacan since the beginning of this decade, participating as much in drug trafficking as in kidnapping and extortion," Poire said Thursday.
CNN's Krupskaia Alis contributed to this report.
FOLLOW THIS TOPIC