Attackers set kindergarten ablaze in Mexican border city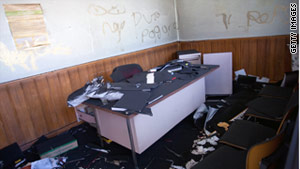 Classes have been suspended at a Juarez school that was set on fire.
STORY HIGHLIGHTS
Police say a message from attackers claimed the school did not pay a protection fee
Classes in the school have been suspended and parents say they fear for their children
Graffiti messages in other schools have threatened attacks against teachers
The messages are found in Ciudad Juarez, located across the border from El Paso, Texas
Mexico City (CNN) -- Two armed attackers burst into a kindergarten and set fire to the school building in the violence-plagued border city of Juarez, state media reported.
Police say the suspects left a message saying the school had not paid a protection fee, which they had demanded from teachers two weeks ago to prevent attacks against the children, the state-run Notimex news agency said Monday.
Classes in the school have been suspended and parents have said they will pull their children out of school until safety improves, the news agency reported.
"We had already reported the extortion to the authorities. Nobody paid attention to us, and now we have to take our kids out of school," mother Ana Martinez told Notimex, adding that her child would not return to school this academic year.
Last month, a series of graffiti messages on school walls in the city -- Mexico's most violent -- threatened attacks if teachers did not hand over their Christmas bonuses.
The ominous warnings sent a new wave of fear through Ciudad Juarez where groups of concerned parents have pulled their children out of class, some schools have been evacuated and authorities say they are stepping up security.
Chihuahua state Gov. Cesar Duarte traveled to city last month to speak out against the threats.
"We could not ever allow what is being signaled, even with the severity of the security crisis, but an attempt is being made to destroy the integrity and the tranquility of the teachers, the principals, the parents and the children," he said. "To the criminals we say that whoever dares to extort will face life imprisonment."
Authorities have created a special team to investigate extortion in Ciudad Juarez, located across the border from El Paso, Texas. But last month, some parents said that did little to calm their fears.
"They don't capture the bosses and they aren't patrolling anymore, so there are no results," father Oscar Olmos said in November.
Journalist Edgar Roman contributed to this report.