Ex-first lady to face Preval's pick in Haiti runoff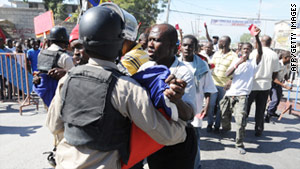 Police guard a recent demonstration in Port-au-Prince, when protesters took to the streets, seeking annulment of the vote.
STORY HIGHLIGHTS
NEW: Mirlande Manigat led balloting in the November 28 election
NEW: Haiti's electoral commission says she'll be in a runoff against Jude Celestin
NEW: Singer Michel Martelly says he'll challenge his third-place showing
Port-Au-Prince, Haiti (CNN) -- Haiti's former first lady will face President Rene Preval's handpicked successor in a presidential runoff in January, the country's Central Election Commission reported Tuesday.
Mirlande Manigat, whose husband was ousted by the country's now-disbanded military in 1988, led balloting in the November 28 election with 31 percent of the vote, the commission announced Tuesday night. She is now slated to face Preval-backed Jude Celestin, who took 22 percent in November, according to the results.
The third-place candidate, popular musician Michel Martelly, narrowly missed the January 16 runoff. But he immediately challenged the results, repeating his allegations of fraud.
Haitians awaited the results nervously, following more than a week of demonstrations -- some violent -- and ongoing complaints of irregularities. The winner of the runoff will lead a Caribbean nation struggling to recover from years of dictatorship and poverty compounded by last January's devastating earthquake and a cholera epidemic that has now sickened almost 100,000 people.
It was feared that a win or runoff spot for Celestin would trigger more unrest in the Haitian capital. Celestin is a close ally of Preval, who has become increasingly unpopular with Haitians.
Martelly, a popular Kompa singer, vowed to challenge the results on the basis of alleged fraud. His campaign manager, Damian Merlo, said Martelly had expected that Preval would not relinquish power easily.
"The math says an absolute fraud," Merlo said.
A total of 19 candidates were seeking to succeed Preval, who is barred from seeking another term and who is increasingly unpopular with Haitians frustrated by the lack of progress since the quake. He handpicked Celestin, who headed the state construction company, as his successor.
Celestin led the state-run transportation company that gained notoriety in the days after the January 12 quake as its trucks picked up the bodies of the dead.
The Joint Election Observation Mission of the Organization of American States (OAS) and the Caribbean Community (CARICOM) said it maintained a presence in the vote tabulation center. But last week, United Nations Secretary General Ban Ki-Moon said the suspected fraud in the electoral process was more serious than previously thought.
Since then, riots have erupted in the Haitian capital, some violent enough for police to spray tear gas. Authorities feared more unrest in the aftermath of the election results -- and some aid workers, including U.N. staff, left their offices early to return home before darkness fell.
FOLLOW THIS TOPIC