Colombian leader cancels climate conference trip after flooding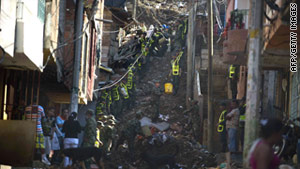 Soldiers remove rubble from a mudslide near Medellin, Colombia, on Monday, December 6.
STORY HIGHLIGHTS
NEW: The Red Cross says 23 people are dead after a landslide, and more than 120 are missing
At least 194 people have died in Colombia's floods, authorities report
Climate change "is what is affecting us," Colombia's president says
The interior ministry says as many as 200,000 homes have been damaged
(CNN) -- Colombia's president says devastating flooding forced him to cancel his scheduled trip to the United Nations climate change conference in Mexico this week -- even though global warming itself could be causing the disaster his country faces.
"I canceled the trip I was taking to Cancun ... to attend the international conference on climate change, which is what is affecting us, but I canceled this meeting," President Juan Manuel Santos said in a statement Sunday.
At least 194 people were killed and 248 injured after torrential rains in Colombia that have affected nearly 1.6 million people, according to the country's interior ministry. The downpours have caused landslides and overflowing rivers, destroying at least 2,040 houses and damaging nearly 270,000 more nationwide, the ministry said.
Rescue crews continued to work Monday after a landslide in the suburbs of Medellin, Colombia, buried between 30 and 50 homes, Red Cross National Deputy Director Jorge Ivan Nova told CNN. Up to 150 people were affected, he said. As of Monday night, they had found 23 bodies, Nova said, and more than 120 others could still be trapped underground. Seven others were injured.

Deadly torrential rains in Colombia
Better weather on Monday helped rescuers, but there was so much water on the ground that further mudslides were a risk, he said.
Bersabe Alzate cradled her head in her hands and held back tears as she described the search for her family members.
"Two little girls, my sister-in-law and my niece -- they are trapped and they haven't been found," Alzate told Caracol. "They haven't been able to get them out."
The landslide occurred Sunday afternoon, while volunteers elsewhere in the province of Antioquia held a telethon to raise money for winter weather victims.
"From this tragedy that has no precedent in the history of our country, we are going to forge ahead," Santos said Sunday after flying over some of the most severely affected areas, according to a statement on the government's website.
Colombia is considering declaring a state of emergency to devote more resources to response and rescue efforts, Santos said, noting the number of victims throughout the country could climb to 2 million.
CNN's Catherine E. Shoichet and Esprit Smith contributed to this report.
FOLLOW THIS TOPIC