U.S. analysts sought details on mental health of Argentine president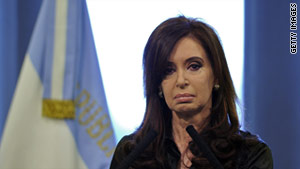 Argentine President Cristina Fernandez de Kirchner was elected to office in October 2007.
STORY HIGHLIGHTS
WikiLeaks published a 2009 State Department cable about Cristina Fernandez de Kirchner
U.S. analysts were seeking "a more well-rounded view" of her personality
Fernandez de Kirchner was elected president of Argentina in 2007
Washington (CNN) -- State Department analysts raised questions about the psychological state and health of Argentine President Cristina Fernandez de Kirchner, according to a December 2009 cable recently published by WikiLeaks.
The analysts were curious about the "interpersonal dynamics" of the president and her husband Nestor Kirchner, who was also his wife's immediate predecessor as president.
The cable, which was sent from the secretary of state's office and signed by Hillary Clinton, said that the analysts had "a much more solid understanding of Nestor Kirchner's style and personality than we do of Cristina Fernandez de Kirchner," and wanted to develop "a more well-rounded view" of the then-president's personality.
Among the questions put to the U.S. Embassy in Buenos Aires was a series about President Fernandez de Kirchner's mental state and health: how she managed her nerves and anxiety, how stress affected her behavior toward advisers and decision-making, whether she was on medications, and how she calmed down when distressed.
The cable also asked about President Fernandez de Kirchner's approach to dealing with problems, and whether she shared her husband's "adversarial view of politics." It also asked about how the Argentine first couple divided up their day and on what issues each of them took the lead or deferred to the other.
The 2009 cable also asked about the health of former President Kirchner. He died of an apparent heart attack in October.
President Fernandez de Kirchner was elected to office in October of 2007, at the same time then-Sen. and former first lady Clinton was seeking the Democratic nomination for the 2008 presidential election in the United States.

Part of complete coverage on

What next for WikiLeaks editor and founder Julian Assange, now that he's been released on bail in the UK?

Julian Assange says the sexual misconduct charges against him are little more than an effort to discredit him and his organization.

WikiLeaks editor walks out of London court after being freed on bail nine days after being arrested for questioning about alleged sex crimes in Sweden.

In 2006, Julian Assange was apparently looking for a date. After launching WikiLeaks, he evidently created a profile on OkCupid.com.

A court in London found itself in the world's spotlight, as a small army of celebrities turned up to offer support -- and bail money -- to Julian Assange.

The founders of Openleaks.org say they are former WikiLeaks members unhappy with the way the organization is being run under Julian Assange.

Hackers who support WikiLeaks want others to replicate the attacks they say took down the websites of MasterCard and Visa.

Does Julian Assange's threat to release "Doomsday Files" from Wikileaks carry validity?


Most popular stories right now