STORY HIGHLIGHTS
WWII veterans get free travel to memorial in Washington through Honor Flight
Less than 10 percent of WWII American veterans are still alive
Twelve veterans started the Honor Flight in 2005 with six small planes
Now, Honor Flight charters Boeing jets to take veterans from all over the country
(CNN) -- Meet the "greatest generation" -- the 16 million servicemen and women who served in World War II.
Eighty-year-old Army veteran Chris Maurer couldn't wait to sign up. He lied his way into the Army at the age of 15.
"I went to sign up and said 'I'm ready to go!' They told me, 'You look too young!' So I said, my mama said I could go. So she signed for me and that was it. I was gone," Maurer said.
Eighty-nine-year-old Hal Murray said he remembers navigating the skies of Europe like it was yesterday. "The farther we pushed Germany back after the Rhine crossing, the heavier the flack for our bombers," Murray said.
And 83-year-old Weyman Owens witnessed the destruction left behind from the nuclear strikes at Hiroshima and Nagasaki.
"It was hell. At least a mile from where they dropped that thing, buildings made of rod iron were just twisted and torn to pieces: a church, torn all to pieces, everything just blown to pieces. Nothing I've ever seen compares to that."
Many veterans, including Maurer, Murray and Owens, didn't think they would get a chance to see the memorial.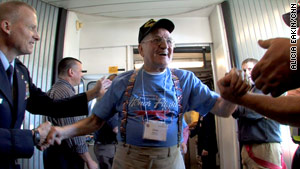 Chris Maurer is greeted by military officials and volunteers at the Baltimore airport.
That is until they heard about Honor Flight, a program dedicated to getting veterans to the World War II memorial in Washington, D.C. The program started in 2005, flying twelve veterans to the memorial with six small planes.
Today, it operates like a volunteer airline, with 98 hubs in 35 states. Now, instead of renting small planes, they charter Boeing jets, thanks to donations that keep the planes in the sky. The veterans don't pay a penny.
There is a sense of urgency at Honor Flight because less than 10 percent of those who served in the war are still alive.
At the memorial, Murray paused to remember the high price of freedom -- the more than 400,000 American soldiers who died in the war.
"To Paul McKinney and the 15 other men who died in my squadron, this honors them all," Murray said. "This is just a very beautiful place and they've done a very great job of making it meaningful for old jokers like me."
"I didn't go into service to have a memorial," fellow veteran Owens said.
"But it's beautiful, it's worthwhile, and it's something to be proud of."
World War II veterans are dying at a rate of about 1,000 per day, said Royce Ard, west Georgia's Honor Flight hub director.

Honor Flight thanks veterans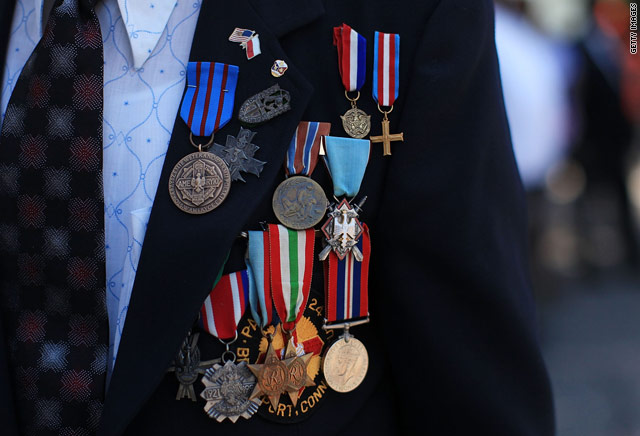 Veterans by the numbers
"Some have even passed away while waiting to go on this trip. So it's imperative that we get as many of these flights done as quickly as possible," Ard said.
In the days and weeks before each Honor Flight, an army of ground volunteers coordinates every detail from the buses that pick them up to the meals they eat.
Everywhere they go, they are greeted by well-wishers -- people who have no connection to the veterans except a desire to thank them for their service.
In some cases, Ard said, this is the first time they have been thanked so directly.
"It's not because people ignored them. In 1945 everyone was in the service. So when they came home, they went back to work, back to the farm and back to school. They just came home and started to build up America again," Ard said.
"Thanking the World War II veteran took way too long."
FOLLOW THIS TOPIC