Bolivian president recuperating from knee surgery, state media says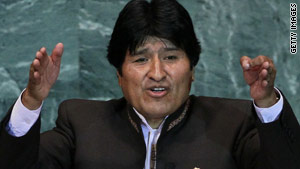 Evo Morales had a degenerative problem with a tendon in his left knee causing him pain.
STORY HIGHLIGHTS
The surgery was performed Saturday night in the city of Cochabamba
Evo Morales had a degenerative condition on a tendon in his left knee
Morales started physical therapy on Monday, the presidential minister said
(CNN) -- Bolivian President Evo Morales was in a hospital Tuesday, three days after knee surgery, but has started physical rehabilitation, the state-run ABI news agency reported.
Morales underwent the surgery Saturday night in the central valley city of Cochabamba, about 235 kilometers (145 miles) southeast of La Paz, the nation's capital.
"Two days after his operation, the president started his physiotherapy, which demonstrates his recovery is rapid," said presidential minister Oscar Coca.
Coca said that although Morales' left leg was immobilized, he was carrying out his presidential duties, meeting with Vice President Alvaro Garcia Linera and other political leaders.
"The presidential office has literally been transferred to Cochabamba, to the Los Olivos Clinic, where the medical treatment continues," Coca was quoted as saying by ABI, or Agencia Boliviana de Informacion.
Morales had a degenerative problem with a tendon in his left knee that was causing him pain, the government said Sunday. His doctors recommended the surgery.
He is slated to remain in the hospital for another few days before returning to La Paz, presidential spokesman Ivan Canelas said.
The Bolivian president likes to play soccer and was criticized last month when he kneed an opponent in the groin. Morales later apologized but said the other player had kicked him.
News reports say Morales will not be able to undertake any sport activities for six months.
FOLLOW THIS TOPIC