U.S. citizen released from Peruvian prison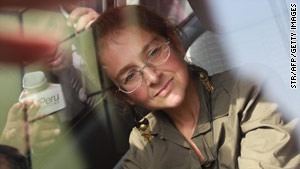 Lori Berenson, shown in a car after leaving prison in May, has been freed from prison.
STORY HIGHLIGHTS
Lori Berenson was granted parole last week
The American's family expects the prosecutor to appeal
Berenson was released in May, reincarcerated in August
Peruvian president: Berenson "is not a threat to Peru"
(CNN) -- A U.S. citizen imprisoned in Peru for 15 years for aiding leftist rebels was released from prison Monday after a Peruvian court granted her parole her last week.
Peruvian television showed Lori Berenson leaving Lima's Chorrillos Penitentiary. Berenson, 40, was sentenced to life in prison in 1995 for collaborating with the Tupac Amaru Revolutionary Movement to attack the nation's congress and overthrow the government. Her sentence was reduced to 20 years on appeal.
"The judge in charge of Lori's parole application has, once again, granted Lori parole on the grounds that she has fulfilled all necessary requirements," her family wrote Friday on their website, freelori.org.
Berenson gave birth in prison in 2009 to a son who was fathered by her estranged husband, a Peruvian lawyer who represents her. The young boy has been living with her in prison.
The former New Yorker was released from Chorrillos Penitentiary in May only to be reincarcerated in August on a technicality.
"I was sentenced for the crime of collaboration with terrorism, and I did collaborate with the MRTA," she told the court in August, according to the Andean Air Mail & Peruvian Times, an English-language online news magazine in Peru. "I have never been a leader, nor a militant. I have never participated in acts of violence nor of bloodshed, nor have I killed anyone. And what I would like to clarify here is that I know that my mere participation, even though it was secondary in one incident, if it contributed to the violence in society, I am deeply sorry and I regret it."
"Also, I have a different vision of life. It has been almost 15 years. I am now a 40-year-old woman. I left home when I was young. But I have a family who have sacrificed everything for me, and I would like to pay them back somehow. And more than that, I have a child, a 15-month-old son and he is a child I would like to be close to, like any mother. I would like to bring up my son to be a good man. That is now my objective."
Berenson's family expects that the state prosecutor will appeal the judge's ruling again. Julio Galindo, the prosecutor, has argued that Judge Jessica Leon incorrectly applied a law that allows her to consider work and study in parole cases. Galindo says the law does not apply to people convicted of terrorism.
In September, Peruvian President Alan Garcia told CNN en Espanol that Berenson "is not a threat to Peru."
"How much fear should Peru have of a woman who has already served 15 years in prison, who has a little baby boy?" Garcia said. "I see neither the reason why that should create an issue that divides us, nor create fear among the population."
FOLLOW THIS TOPIC