Two miners killed in Chile blast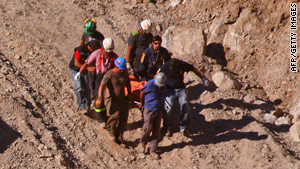 Rescue workers on Monday carry the body a miner who died in the blast at the Los Reyes mine in northern Chile.
STORY HIGHLIGHTS
An explosion at a mine in Chile killed two and injured one
Old detonators prematurely exploded
The mine was near the site of another mine where the 33 miners were rescued
Santiago, Chile (CNN) -- Two miners were killed and a third was injured in a dynamite explosion at a copper and gold mine in Chile's Atacama Desert, not far from another mine where 33 miners were trapped for 69 days.
The miners were working in what was a new mine in an area known as Los Reyes, about 50 kilometers (31 miles) east of the town of Copiapo, near the site of the San Jose Mine, where the dramatic rescue of the 33 miners grabbed the world's attention.
The explosion at Los Reyes was the result of using old detonators on dynamite, said Miguel Fortt, a mining consultant who was aiding investigators. The aged detonators were sensitive to the heat in the mine and prematurely exploded, he said.
Two miners were killed by the blast, and a third lost an eye when a piece of rock hit him, though he is otherwise in stable condition, Fortt said.
The deceased miners were identified as Homero Aguirre, 40, and Daniel Lazcano, 26.
It was the first day of work on the new mine, Fortt said.
FOLLOW THIS TOPIC