Mexican authorities say top Gulf drug cartel leader is dead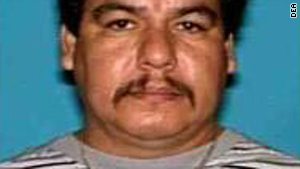 Antonio Ezequiel Cardenas Guillan operated in Matamoros, across the border from Brownsville, Texas.
STORY HIGHLIGHTS
NEW: Three other suspected criminals and 2 members of the navy also die in the clash
Antonio Ezequiel Cardenas Guillen dies in the Mexican city of Matamoros
Gunfire is heard across the border at a U.S. university
The school cancels classes
(CNN) -- A leader of the Gulf drug cartel -- Antonio Ezequiel Cardenas Guillen, also known as "Tony the Storm" -- died during a clash with security forces in the border city of Matamoros, Alejandro Poire, security spokesman for the Mexican government, said Friday.
Three other suspected criminals and two members of the Mexican navy also died in the fighting, he said.
The Gulf cartel is one of Mexico's major drug-trafficking organizations. It is based in Matamoros, which is across the border from Brownsville, Texas.
"Today was another significant step in the destruction of criminal organizations that have done so much to damage the people of this country," Poire said.
The University of Texas at Brownsville and Texas Southmost College canceled classes through Saturday and said it would rework several weekend events "because of gunfire taking place across the Rio Grande."
Most of the students and faculty members have gone home, said Letty Fernandez, a university spokeswoman. The campus is about half a mile from the U.S.-Mexico border.
Sgt. Reynaldo Trevino, with the university police, said he was working at a soccer game when he heard gunfire break out.
He said the gunshots sounded so close it was "like we were there."
More than 28,000 people have died in drug-related violence since Mexican President Felipe Calderon intensified the government's fight against cartels and organized crime after taking office in 2006, according to government figures.
Authorities have scored a string of important wins against drug cartels recently.
In September, officials arrested Sergio Villarreal, known to Mexican officials as "El Grande," an alleged top leader of the Beltran Leyva cartel. His capture came soon after the August arrest of American-born "La Barbie," or Edgar Valdez, thought to be one of Mexico's most ruthless drug traffickers.
CNN's Janet DiGiacomo contributed to this report.
FOLLOW THIS TOPIC