Hurricane Tomas lashing St. Vincent, St. Lucia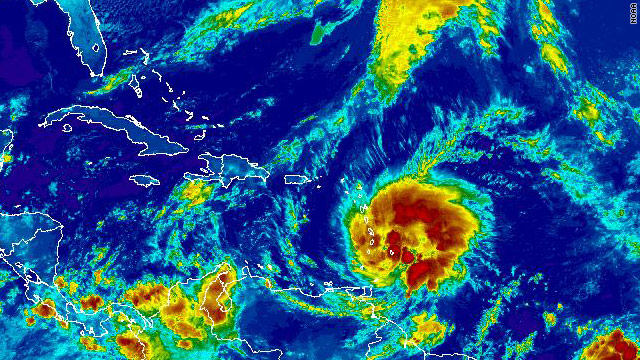 STORY HIGHLIGHTS
Its maximum sustained winds strengthen to 90 miles per hour
Tracking maps show Tomas becoming a Category 3 hurricane
Tomas could dump 4 to 6 inches of rain on islands
Barbados reports damaged structures and downed power lines
Miami, Florida (CNN) -- Hurricane Tomas lashed the islands of St. Lucia and St. Vincent with heavy rains and gusty winds Saturday, forecasters said.
Earlier, as a tropical storm, Tomas damaged homes and downed power lines on Barbados, according to the Miami, Florida-based National Hurricane Center.
As of 7 p.m. ET, Tomas was 43 miles (70 kilometers) northwest of St. Vincent and about 52 miles (85 kilometers) west-southwest of St. Lucia, the Hurricane Center said. Its maximum sustained winds were 90 mph (153 kph), making Tomas a Category 1 hurricane, although it is expected to further intensify.
The storm was moving west-northwest at 9 mph (15 kph), the center said.
"The center of Tomas will continue to move away from St. Lucia and St. Vincent this evening," forecasters said.
A hurricane warning was in effect for St. Vincent and the Grenadines, St. Lucia and Martinique, forecasters said. A tropical storm warning was in effect for Tobago, Grenada and Dominica.
A wind gust of 48 mph (78 kph) with a gust to 69 mph (110 kph) was reported on St. Lucia on Saturday, and a gust of 51 mph (82 kph) was reported on Martinique. Earlier Saturday, a wind gust of 63 mph (100 kph) was reported on Barbados, and the Barbados Meteorological Service reported damage to homes and downed power lines on the island.
Hurricane conditions were occurring on St. Lucia and St. Vincent and were also likely within other parts of the hurricane warning area. Conditions were expected to improve as Tomas moves away from the islands.
Hurricane-force winds extended outward up to 25 miles (35 kilometers) from the storm's center, with tropical storm-force winds extending outward 175 miles (280 kilometers).
Tomas is forecast to dump 4 to 6 inches of rain across portions of the Windward and southern Leeward Islands, with up to 8 inches possible in isolated areas. In addition, a storm surge is expected to raise water levels by as much as 1 to 3 feet above normal tide levels in some areas, accompanied by "large and potentially destructive" waves.
Tracking maps show Tomas becoming a Category 3 hurricane as it crosses the Caribbean toward Jamaica.
Well north of Tomas, Tropical Storm Shary posed no threat to land as it raced across the Atlantic. It was expected to weaken until the system becomes absorbed by a cold front Saturday night, forecasters said. As of 4 p.m. Saturday, Shary was located about 530 miles (855 kilometers) south-southeast of Cape Race, Newfoundland. It had maximum sustained winds of 70 mph (110 kph) and was moving northeast at 48 mph (78 kph).