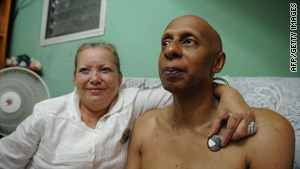 Cuban political dissident Guillermo Farinas, right, with Laura Pollan, leader of opposition movement Ladies in White.
STORY HIGHLIGHTS
The Roman Catholic Church announced the names of five prisoners to be freed
The list included four men and one woman
They were incarcerated on charges including hijacking and terrorism
Havana, Cuba (CNN) -- Cuba's Roman Catholic Church on Thursday announced the names of five more prisoners to be freed who do not belong to a group of 52 jailed dissidents originally set for release.
The church identified the four men and one woman as Juana Maria Mena Nieves, Domingo Mederos Ozuna, Juan Francisco Gomez Marimon, Misael Mena Fernandez, and Jose Luis Navarro Ramn.
They were incarcerated for crimes that include hijacking and terrorism.
Since July, Cuba has begun releasing larger numbers of political opposition leaders imprisoned during a government crackdown on internal dissent in March 2003 under then-president Fidel Castro.
Thirty-nine of 52 prisoners have since been released.
But now the government has also begun releasing prisoners who were not a part of the original list.
Earlier this month, at least nine other inmates were added to those Cuba plans to free, many of whom were convicted of violent crimes, according to the nation's independent Commission for Human Rights and National Reconciliation.
The announcement coincides with the awarding of another Cuban dissident, Guillermo Farinas, who received the European Parliament's 2010 Sakharov Prize for Freedom of Thought on Thursday.
Read more about the awarding of the prize to Farinas
Farinas, a psychologist and writer, stopped eating in February to protest the Cuban government's imprisonment of political activists.
He ended his months-long hunger strike in July after Cuba announced its largest prisoner release in over a decade, following a deal brokered by Spain's Foreign Ministry and the country's Roman Catholic Church.
Farinas will be invited to the prize ceremony in Strasbourg, France, on December 15, though it is unclear whether Cuban authorities will allow him to leave the island.
"When you congratulate me, you congratulate the Cuban people," he said in an interview with CNN en Español.
Thursday's announcement also coincides with a message posted by former Cuban president Fidel Castro, warning of an impending nuclear war between the United States and Iran.
The former Cuban leader has focused on foreign policy since his return to the public scene after being sidelined by illness in 2006, often posting columns and making speeches that warn of nuclear war.
U.S. President Barack Obama earlier this week said his administration is looking for Cuba to exhibit more signs of freedom.
"I think that any release of political prisoners, any economic liberalization that takes place in Cuba, is positive -- positive for the Cuban people in particular,'' Obama told Hispanic media Tuesday, according to a White House official. "But we have not yet seen the full results of these promises. There are still too many political prisoners in Cuba that are languishing in jails only because they have differing views from the Cuban regime."
FOLLOW THIS TOPIC