Mexican president wants civilian trials for some military cases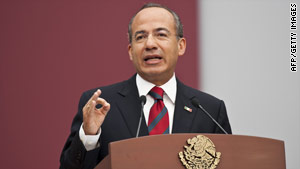 Mexican President Felipe Calderon's proposed reforms would also satisfy demands made by the Inter-American Court.
STORY HIGHLIGHTS
The cases would involve forced disappearances, torture and rape
Such cases are now tried by military tribunals
Critics say the Mexican military does not adequately prosecute its own soldiers
Mexico City, Mexico (CNN) -- Mexican President Felipe Calderon has asked the nation's Senate to amend the law so that military suspects would be liable in civilian courts for cases involving forced disappearances, torture and rape.
Such cases are currently tried by military tribunals. Critics say justice is often not served because the military rarely makes an effort to prosecute suspects.
Calderon's measure comes after the Inter-American Court of Human Rights ruled in November that Mexico was responsible for the 1974 disappearance of Rosendo Radilla, an activist and mayor who had been stopped at a military checkpoint. The ruling condemned what the court called the rampant abuse of human rights by Mexico's military.
Calderon said the proposed changes would align Mexico with provisions outlined in the American Convention on Human Rights and the Organization of American States' Inter-American Convention on Forced Disappearance of Persons, according to the state-run Notimex news agency.
The proposed changes also would satisfy the demands for reform made by the Inter-American Court in its November 23 ruling, Calderon said.
Human rights activists and organizations have criticized what they see as impunity through the years by Mexico's military, which is playing an increasingly important role in Calderon's stepped-up efforts against drug cartels and organized crime. Calderon has dispatched about 50,000 troops to the nation's trouble spots since taking office in December 2006.
The Human Rights Watch organization said in an April 2009 report that "Mexico is failing to hold members of the military who commit human rights violations accountable, undercutting its efforts to curb drug-related violence and improve public security."
The 76-page report, "Uniform Impunity: Mexico's Misuse of Military Justice to Prosecute Abuses in Counternarcotics and Public Security Operations," detailed 17 cases involving alleged military abuses against more than 70 victims.
The reported abuses included killings, torture, rapes and detentions.
"Not one of the military investigations into these crimes has led to a conviction for even a single soldier on human rights violations," the report said. "The only civilian investigation into any of these cases led to the conviction of four soldiers."
More recently, Amnesty International outlined in December what the rights group called case studies on military abuses. The cases included the 2008 death of a man held by the military and the reported torture of 25 Tijuana municipal police officers detained by soldiers.