Progress slows in the search for two trapped miners in Ecuador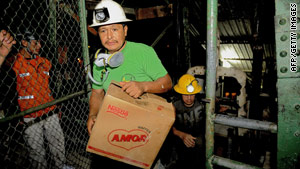 Two miners leave the "Black House" mine where four of their colleagues became trapped.
STORY HIGHLIGHTS
Workers are believed to be just shy of where the missing miners might be
Large rocks and wood blocks frustrate their progress
The men underground are thought to have enough air for a few more days
(CNN) -- Large rocks and wood blocks slowed the progress of rescue workers trying to reach the remaining two miners in southern Ecuador believed trapped underground, the state-run news agency reported Sunday.
Four miners were trapped in a cave-in at the mine that happened early Friday. The bodies of two of the miners were found Saturday, while two more remained missing.
Nonrenewable Resources Minister Carlos Pareja said rescue workers are just about 26 feet (8 meters) shy of the site they believe the two missing men might be, according to the Andes news agency. The miners are thought to be about 500 feet (150 meters) deep.
The incident comes just days after crews in Chile rescued 33 miners trapped underground for more than two months -- in a stunning operation that was watched by the world.
"There's not far to go, but the distance that remains is the most difficult," Pareja said, according to Andes.
He explained that workers were previously digging through a type of mud. Now they must burrow through hard rock and wood, put inside the mine to help support it, which has slowed their progress.
Officials have not had any contact with the two missing men and do not know whether they are dead or alive.
The gold mine, which officials say is owned by Minesadco, is located near the town of Portovelo, near Ecuador's southern border with Peru.
Jorge Espinosa, under-secretary of mining development at the ministry of nonrenewable resources, said Friday there was enough air for the miners to breathe for five or six days.
FOLLOW THIS TOPIC