STORY HIGHLIGHTS
NEW: The two men left will be transferred to another building, official says
A miner says they were all waiting to die in the mine
Three men were discharged Thursday night
Government turns its attention to labor conditions
Share this story with CNN. Go to iReport and post your viewing experiences on video.
Copiapo, Chile (CNN) -- All but two of the 33 miners rescued this week in Chile after more than two months underground have been released from the Copiapo Regional Hospital, officials there told reporters Friday.
Two of the men are still in the hospital, but will be moved to another building shortly, said Paola Neumann, director of health services. She declined to say which of the miners would remain under doctors' care.
Some of the miners have had trouble sleeping, she said, but in general the men were making a better recovery than health officials had expected. None will require extensive medical treatment.
Three of the miners arrived late Thursday to joyous homecomings following their release from the hospital, CNN Chile reported. Officials hope that all 33, who have been mostly mum about their ordeal, will be home by Sunday, according to Neumann.

Video: Pinera greets miners at hospital

Video: First man in, last man out

Video: Little iReporters react to mine rescue
CNN's sister network, CNN Chile, identified the first three released as Juan Illanes, Edison Pena and Carlos Mamani. It aired video of several men and what appeared to be their families inside a red van departing the hospital grounds.
Illanes is a 52-year-old electrical mechanic and military retiree; Pena, 34, is an Elvis Presley fan; and Mamani is a 23-year-old Bolivian who started working in the mine five days before the collapse.
Mamani was the only miner recognizable in the network's video. He was still wearing the dark sunglasses that he and the other miners had on when they surfaced Wednesday to protect their eyes after months of living underground.
Their departure marked the beginning of the end of a frenzied joy that erupted Wednesday as the men were rescued.
"I was afraid that I was not going to meet the child that was on the way. It was the thing that most scared me," said Richard Villarroel. His girlfriend is expecting a child in November.
Villarroel, the 28th miner rescued, spoke to journalist Jonathan Franklin shortly after his rescue Wednesday.
"I think the worst thing is to pass three, four, five days without food; to know that there might not be any future," he said.
The mine collapsed on August 5. The workers spent 17 days before they were able to establish their first contact with the outside world.
Villarroel told Franklin he was afraid he would die underground.
"We were all waiting for that. We were all very thin. I lost 12 kilos (about 27 pounds)," he said.
The miners spent Thursday meeting with President Sebastian Pinera and undergoing tests. A few underwent treatment, a hospital official said. All were reportedly in relatively good health.
Earlier in the day, Copiapo Regional Hospital Subdirector Dr. Jorge Montes said there would be no restrictions on the activities of the three men released first.
A patient with eye problems and another with respiratory complications have both responded well to treatment, he said Friday.
Montes said the psychological impact of the men's months of stress is impossible to predict.

Video: Chilean president promises change

Video: Mine rescue invokes national pride

Video: Families celebrate as miners surface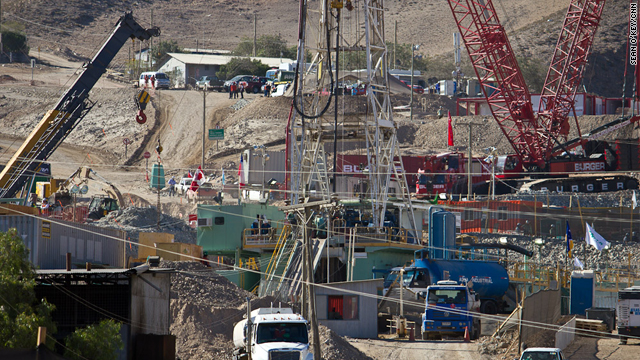 Gallery: Breakthrough at Chile mine
"Eventually, all could exhibit some post-traumatic stress disorder, but some people can resist it better than others," Montes said.
Meanwhile, the government shifted its attention to protecting the miners and the rest of the country's work force.
After visiting the hospital, Pinera told reporters he could not guarantee against future accidents, but vowed that the government would tighten workplace oversight.
"This we can guarantee: Never again in our country are we going to permit work in such an unsafe and inhumane environment as the San Jose mine," Pinera said, adding that other mines fall into this category.
In a few days, the government will announce a new pact with the country's work force that would result in a change in labor laws, Pinera said.
"We are going to create a culture of respect for life, health and dignity of our workers," he said.
Early Thursday morning, Pinera placed a metal cap on top of the hole through which the 33 miners emerged, one by one, marking the end of a rescue operation that captivated much of the globe.
"Today, Chile is a country much stronger and more united, and a country much more respected in the world," Pinera said, adding that Thursday was more calm and tranquil following the high suspense of the rescues.
Officials also announced that two of the three tunnels that were drilled in alternate attempts to reach the miners -- known as Plan A and Plan C -- will be permanently sealed. The hole that reached the miners, Plan B, will be sealed temporarily while officials decide whether to close it for good, Mining Minister Laurence Golborne said.
"We're really happy that this story is reaching a happy ending. I think if we could have planned in advance this history as a movie, probably nobody would have believed that this story would have ended in a way as it is now," Golborne said.
CNN's Karl Penhaul, Patrick Oppmann and Gary Tuchman contributed to this report.
FOLLOW THIS TOPIC