STORY HIGHLIGHTS
Men shared small portions of fish, crackers, peaches, milk to survive first 17 days
August 29: Miner Esteban Rojas asked his wife of 25 years to marry him again
September 14: Smokers got cigarettes, miners rejoiced in birth of Ariel Ticona's daughter
October 10: Miners told to select order for rescue, many volunteered to go last
Editor's note: This is a roundup of highlights of the rescue at the San Jose mine in Chile. Click on the links to see CNN's coverage from each day.
(CNN) -- Franklin Lobos and Jorge Galeguillos were driving a Nissan pickup truck into the San Jose copper and gold mine near Copiapo, Chile, when the Earth shook.
A slab of rock crashed to the ground behind them, cutting off the entrance in an avalanche of dirt and dust.
"I couldn't see my hand in front of my face," Galeguillos would later write to his brother.
They watched as rocks buried a water tank and backhoe.
When the dust settled, the miners resumed their journey, driving around smaller rockfalls that partially blocked the 12-foot-wide tunnel. Soon, they found 31 fellow miners huddled in a cramped "workshop" -- a shelter where their saga would begin but, thankfully, not end.
They were trapped deep in the mine, and almost a half-mile of rock separated them from their saviors, a band of 130 rescuers who, when the world assumed the worst, kept digging.
The miners had cell phones, though no signals, and the LCD displays reminded them when August 5 turned to 6, turned to 7 ...
Their prospects for rescue were as dark as the collapsed mine.
Though there were first aid kits and toiletries in the shelter, there was enough food to last only two days.
The 33 miners stretched it out. Every 48 hours, each man would get a cracker topped with some canned fish, accompanied by equally frugal portions of milk and peaches.
This continued until August 22, when a drill broke through the shelter's ceiling and a probe followed. The men had a plan for the day they prayed for -- when rescuers made contact -- but it promptly disintegrated when the moment arrived.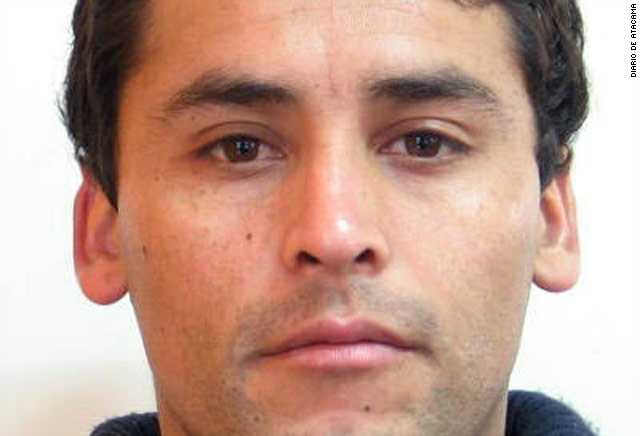 Gallery: Miners rescued in Chile

Video: Chilean miner to keep working

Video: Personal issues after the rescue

Video: Bear Grylls on Chile miners
"Everyone wanted to hug the hammer [on the probe]," said Luis Urzua, the shift manager credited with organizing the men.
Some miners, he said, suggested sending requests for potatoes. Others wanted to send greetings to family members.
Instead, they kept their message simple: "We are fine in the shelter, the 33 of us."
A second note from the group's spiritual leader, Mario Gomez, explained to his wife, Lila, that the men were confident rescuers would prevail: "We are going to get out with God's help."
Their hope was renewed as life in the mine became luxurious by the first two-and-a-half weeks' standards. Rescuers began sending down flashlights, oxygen, clothing, medicine, food, water and items to help the miners while away their time.
Time no longer as dangerous a foe, their travails carried on 52 more days.
Aspects of those days are still a mystery to the world, but what is already known demonstrates that it took the best of both man and machine to pull the miners from their potential grave. Hydraulic drills may have been useless without the power of the human spirit.
Day by day, technology and grit brought their salvation nearer:
• A second borehole pierces the mine August 23, providing another avenue for rescuers to communicate with the miners and ferry sustenance to them. The men break into Chile's national anthem upon learning none of their fellow miners was hurt in the collapse that entombed them.
• NASA and submarine experts arrive August 24 to address the psychological impact on the miners. Health officials develop an exercise regimen and chores to keep the men busy. Mining Minister Laurence Golborne talks with the men but refrains, for now, from telling them their rescue could take months.
• The men, who have all lost weight, request items to make the shelter homier: playing cards, religious figurines, a Chilean flag. Family members standing vigil at Camp Esperanza's makeshift tent village tell reporters August 25 they're not leaving until every miner is saved.
• Though some miners are showing signs of depression by August 26, they put together a 25-minute video in which they appear in relatively high spirits. This, despite being crammed into a space the size of a cozy studio apartment, in temperatures sometimes hovering around 85 degrees.
• Health officials take the men off their liquid diet August 27. Solid foods include yogurt-and-cereal shakes, sandwiches, kiwi and shredded meat. Shrines are being erected around Camp Esperanza, and lawyers file suit against the men's employer, saying the mining company violated state laws and failed to provide security.
• The men are now aware it could take up to four months to extract them, as rescuers erect a hydraulic drill August 28. The rescue is dubbed the St. Lorenzo Operation, after the patron saint of miners, and Pope Benedict XVI says the next day he is entrusting the men to the saint.
• On August 29, each miner is allowed to chat on the phone with a family member for about 20 seconds. The men also receive MP3 players, small speakers and a projector with recordings of soccer games and films. Jessica Yanez reveals that her husband of 25 years, miner Esteban Rojas, sent her a letter asking her to marry him again, this time in a church.
• The plan to begin drilling on August 30 is delayed because rescuers need more equipment.
• Drilling on a rescue shaft begins August 31, and miners send up another video, this one 23 minutes long. They are listening to merengue music, and miner Mario Sepulveda assures rescuers they are following all instructions: "We're as good as little babies." Two of the group's 14 smokers get nicotine patches to help them deal with withdrawal symptoms.
• Miner Ariel Ticona sends a note September 2 to his pregnant wife, Elizabeth Segovia, telling her their baby girl -- due in two weeks -- should be named Esperanza (Hope) rather than Carolina. Segovia says she is doing her best not to cry because she doesn't want to upset the baby.

Video: Chilean miner: We waited for death

Video: Rescue captures world attention

Video: First man in, last man out

Video: Miners talk about ordeal
• A second drill arrives September 3, one rescuers hope can bore the hole faster. The miners' menu is becoming more elaborate and includes wine cookies, stroganoff, chicken and plantains. The men dub their shelter "Refuge 33."
• The second drill has to be stopped because of problems with a cable September 6. Rescuers say an oil drill might be optimal, but it will have to be shipped from northern Chile.
• The miners send up another video September 8 detailing life below, namely how they send letters and ration supplies. The men have hung a flag and photos. Miner Jose Ojeda shows off a newspaper story declaring his family never lost hope. One miner sends a message to all the miners' children: "If you stop being happy, then so will we." The men don't mention Ukraine beating Chile in soccer, a game they watched on their projector.
• As of September 9, one drill is 171 meters (561 feet) deep. Another is 268 meters deep, but its bit is destroyed. The drills need to infiltrate about 700 meters of rock. A third drill has been loaded on a convoy of 42 trucks and is about 300 miles north of the mine.
• An oil drilling platform for the third drill is on hand by September 10.
• September 14 turns out to be a big day for the miners. Not only do ventilation improvements allow officials to send two packs of cigarettes into the mine, but Esperanza is born and Ticona gets to watch a video of her birth. Nelly Burgueno announces that the wife of her son, miner Victor Zamora, is expecting as well. Rescuers also replace a bit so the second drill can continue its work.
• Though the first drill is stopped for maintenance, Golborne says September 16 that the men may be out by November. The first drill is about 320 meters deep, the second about 500.
• The second drill reaches the miners September 17, but the hole is only 12 inches wide. It will take a few weeks to make another pass to widen it.
• The men celebrate Chile's independence September 18. They get empanadas as a special treat, and they learn that once the escape route is finished, trips to the surface will take about 15 minutes rather than the hour first announced.
• On September 20, family members begin accusing Chilean President Sebastian Pinera of politicizing the miners' plights. Meanwhile, his popularity is surging.
• Another video documents how the men have split into eight-hour shifts: one for work, one for sleep, one for play. The third drill (said to be capable of reaching depths of 1,000 feet, or 305 meters, in 24 hours) begins boring September 22, and engineers put the finishing touches on the rescue capsules that will bring the men to the surface.
• Military choppers, motorcycle police and the hospital in nearby Copiapo are all on standby September 23.
• Rescuers take delivery of the 924-pound Phoenix rescue cage on September 25. The capsule is equipped with oxygen, communications equipment and retractable wheels. Rescuers say the first drill is at a depth of 442 meters but will need to make another pass before its hole is wide enough. The second drill is experiencing technical problems and is only 175 meters deep, while the vaunted oil drill has reached only 62 meters.
Health Minister Jaime Manalich announces logistics for the rescue. A paramedic and a rescue expert will descend into the shelter before the miners are lifted out. The miners' physical and mental conditions will dictate the order in which they're rescued. Says Manalich, "Compared to the 50 days the miners have spent so far down there, the 15-minute ride back up will be like nothing."
• As of September 28, the men are working out regularly with a trainer via video conference to ensure they are slim enough to fit into the rescue capsule. The second drill is at 330 meters, but rescuers get a scare when a 5.0-magnitude earthquake strikes La Higuera, about 170 miles south of the mine.
• Engineer Rene Aguilar announces the first test of the capsule went swimmingly September 30. The first drill is at 148 meters, and the third is at 156 meters. Using front-end loaders that weren't damaged in the mine collapse, the miners are clearing about eight tons of rock every 12 hours as it falls into the refuge.
We've been behaving. We're as good as little babies.
--Miner Mario Sepulveda tells rescuers August 31
• Trainer Jean Romagnoli says October 4 the men are in "perfect physical health care and psychological conditions to withstand the rescue." The first drill is at 566 meters, the second at 362 and third at 175. Golborne announces the men could be free by October 30.
• Two more Phoenix capsules arrive October 6 (one has "For the Rescue of the 33" scrawled on its container), and the second drill encounters technical difficulties. It will need another drill bit. Below, some of the men have lost as much as 30 pounds, and they're all expected to fit into the capsule.
• The second drill passes through 53 meters of rock in 12 hours and is within 100 meters of the men as of October 7. A 16-man rescue team begins training to extract the men.
• Golborne says October 8 that the men will reunite with select family members and undergo two hours of health checks at a field hospital before being flown to Copiapo. Some men are experiencing anxiety or minor cardiac issues, and health officials are upping their physical activity to gauge how they will handle the rescue.
• Sirens ring out across Camp Esperanza on October 9, indicating a rescue drill has pierced the roof of the mine. Family members pop champagne.
• Rescuers begin encasing part of the escape tunnel with steel tubing October 10. Manalich says that when told to choose the order in which they'll be rescued, several miners offer to go last.
• The tests of the capsule and tunnel prove "very promising," Golborne says October 11. Workers chant "Viva Chile!" as they complete installation of the steel tubing. Alejandro Pino of the Chilean Safety Association asks reporters to stay back as the men are rescued: "Let them have long embraces."
• The miners are put on a liquid diet late October 12, and health officials say the men will need sunglasses to protect their retinas after so long in minimal light. There are also concerns that the germs on the surface could pose risks to the men.
• Shortly after midnight October 13, Florencio Avalos is the first miner hauled to the surface. About 22 hours later, Urzua, the shift manager, is the last out, making it 33 for 33.
CNN's Sean O'Key, Karl Penhaul and Patrick Oppmann contributed to this report.
FOLLOW THIS TOPIC