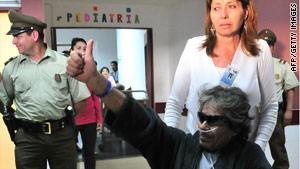 Mario Gomez is escorted through Copiapo Hospital in Copiapo, Chile, on Wednesday.
STORY HIGHLIGHTS
The miners spent a good night in the hospital
They endured the stress well, a doctor says
Some after-effects may linger for years
Copiapo, Chile (CNN) -- All 33 of the rescued miners in Chile may be released from the hospital over the weekend, with three awaiting release on Thursday, a hospital official said.
"The only thing that is missing is for the release to be coordinated," said Copiapo Regional Hospital Subdirector Dr. Jorge Montes.
He said there would be no restrictions on the activities of the three men.
"Friday, probably many more miners are to be released," he added. A patient with eye problems and another with respiratory complications have both responded well to treatment, he said.
Asked if they would all be released before Monday, he answered, "Yes, it could be this weekend -- unless something happens."
The psychological impact of the men's months of stress is impossible to predict, he said. "Eventually, all could exhibit some post-traumatic stress disorder, but some people can resist it better than others," he said.
Citing privacy concerns, he would not identify the men who are to be released first.

Video: Miners in 'very good state of health'
"The probability is that all 33 are going to be home by Sunday," said Dr. Paola Neumann, director of health services at the hospital.
On Wednesday, doctors had said they were planning to operate on at least two of the men for dental problems and eye problems, and all the treatments were completed by late in the afternoon, Neumann said.
Montes said the miners generally were doing well. Some suffered skin conditions, which had been expected, given the high temperature and humidity in which they lived for the last two months.
Three miners underwent dental surgery and were also doing well, and another miner with an ulcerated retina in one of his eyes was treated but the lesion may take some time to heal, the doctor said.
"All of them were subjected to high levels of stress," Montes said. "The majority has endured it in a noteworthy manner. Some are suffering from minor complications, but nothing to worry about. They are happy after having spent a good night."
The most severe case was that of a miner suffering from pneumonia who already had a pre-existing lung condition, but he was responding well to antibiotic treatment, Montes said.
After getting out of the capsule, each miner reconnected with loved ones for anywhere from a few seconds to a few minutes. But, following a tightly enforced protocol, they were all then placed on gurneys and wheeled away into a field hospital set up nearby. There, they were checked by doctors prior to being flown by helicopter to the hospital in Copiapo, a 15-minute flight.
Experts said some of the after-effects of their stay underground and the quick trip to the surface -- especially mental effects, such as post-traumatic stress disorder or restless nights -- may be felt for years to come.
The men are being housed in a ward that was completed two months before the August 5 collapse at the San Jose mine. The hospital has spent weeks preparing for the miners.
Besides physical maladies, doctors will keep an eye out for nightmares, panic attacks, anxiety and claustrophobia, among other potential issues.
The men will be monitored as they reintegrate with their families and society and deal with their sudden celebrity status and media attention.
Some concerns linger due to their lack of sunlight, along with nutrition questions, the effects of their confinement, lack of sleep and sanitation issues. Because they have been isolated for so long, they could be more susceptible to the common cold or other viruses, officials said.
Two Chilean Army nurses were sent down to the mine ahead of the rescue to help the men prepare for their trip to the surface.
The miners were switched to a liquid diet six hours before their rescue in case they vomited on the way up, and they were outfitted with special sunglasses to protect their eyes, which had become accustomed to the underground gloom.
While underground and because of concern about skin infections, the men were given special clothing that wicks sweat from the body, as well as special socks to help prevent infections like athlete's foot. They also had a series of vaccinations including a tetanus booster and flu shot.
FOLLOW THIS TOPIC