STORY HIGHLIGHTS
World waits as rescuers prepare to lift 33 miners from the mine that collapsed August 5
Mining ministry has collected warm wishes from Sweden, Italy, China, dozen other nations
Men won't likely take anything for granted as they return to loved ones, lives once led
Miners could find themselves busy fielding calls from book publishers, movie producers
Stay with CNN for the entire rescue of the Chile miners as it happens on all our platforms, CNN TV, CNN.COM/LIVE, and the CNN App for iPhone.
(CNN) -- A hero's welcome awaits them when they get to the top, not because they did anything markedly noble -- besides defy odds -- but because they showed us there is hope even when the worst seems certain.
By this time Wednesday, the historic moment should be long under way. After 69 days beneath the earth, the last of the 33 miners trapped in the San Jose gold and copper mine in Chile should be preparing for their ascent to freedom.
Their survival, many will say, was born of the strength, patience and resilience God instilled in them.
Already, there have been myriad times a higher power was more than a mere specter or matter of faith to the men. Crammed like the canned fish that first sustained them into a space the size of a Manhattan studio apartment, they have expressed a oneness with the Holy Spirit that resonates with Chileans, 87 percent of whom are Christian.
"We 33 miners are walking hand in hand with God," miner Mario Sepulveda reported on August 31, about 26 days after the mine collapsed and nine days after the world first learned they were alive.
Another 42 days have passed since that profession of faith. Each day has doubtless required similar, sustaining thoughts.
Read about the miners' time beneath ground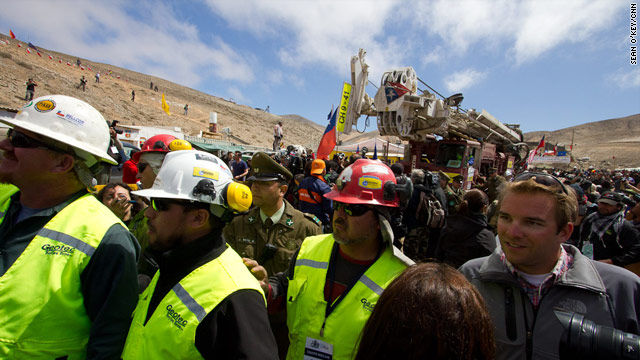 Gallery: Breakthrough at Chile mine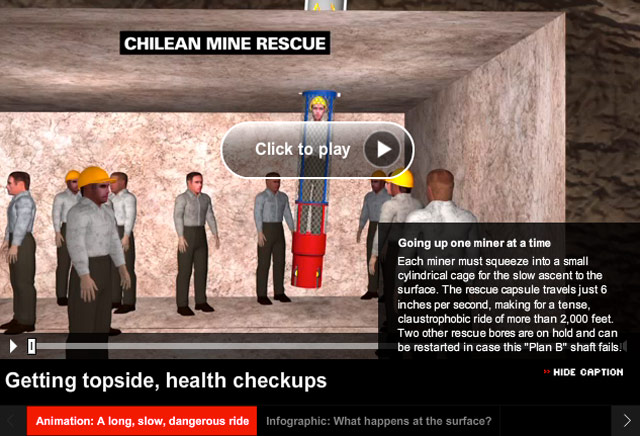 Explainer: Getting to the surface

Video: How the rescue procedure works

Video: The race to rescue the miners
It's easy now to imagine what their joyful homecomings might bring. Fielding (or fending off) media requests, book publishers and movie and television producers might take up a lot of their time.
They may also have to speak to lawyers about a lawsuit filed against their employer.
They will be inundated with the warm wishes of spectators who monitored their ordeal from across the world. The Chilean Mining Ministry has set up a website to collect greetings, and already there are many from Italy, China, the United States and a dozen other nations.
"Estamos con ustedes" -- We are with you -- is a common sentiment.
Nina T. Villacorta in nearby Copiapó announced, "Miracles exist. There are 33."
A class in Sweden wrote with "kind regards" in elementary English, "We think a lot about you and wish you all the best and a quick resque. What is the firts thing you want to do?"
From Antwerp, Belgium, a woman identified as Jacqueline wrote, "I can't wait for the day in which you, the 33, can see the light of the sun. Do not give up and God will protect you."
Read more salutations from around the world
Simple joys await the miners, such as selecting what to eat after almost two months of health officials keeping tabs on their meals (and, before that, 17 days sharing cans of fish and a jar of peaches).
They will no doubt want Chile's specialties, maybe completo (hot dogs with avocado, tomatoes and mayonnaise) and sopa marinera (seafood soup). Or perhaps pastel de choclo (beef-and-vegetable pie) with alfajores (confections with milk caramel) will satisfy a craving.
Jose Sanchez said he wants simply to spend afternoons listening to his son-in-law, miner Victor Segovia, play ranchera music on the guitar.
Carlos Mamani, the only Bolivian in the group, has been invited to accompany Chilean President Sebastian Pinera on a trip next month to see Bolivian President Evo Morales.
Ariel Ticona will enjoy the company of his family's newest member, Esperanza (Hope in English), whose birth he watched on an MP4 on September 14.
Read how the miners celebrated Esperanza's birth
Victor Zamora's wife, Jessica, announced the same day that she was three months pregnant. Zamora will surely cherish all the pre-paternal rituals of the next six months as he and Jessica await the arrival of Paz Victoria, or Peace Victory in English.
Perhaps she will one day frolic in a backyard with Esperanza. How fitting would it be for Peace to play with Hope on the anniversaries of their fathers' rescues?
For the next few weeks at least, it's unlikely the miners will take anything for granted.

Video: Mine rescue set to begin

Video: Anxious wait in Chile

Video: Loved ones await miners' rescue

Video: Rescue capsule a tight fit
In an odd way, you might say they have been wildly fortunate. That is, things could have been much worse as far as being trapped almost a half-mile underground goes.
They've received plenty of water, corresponded regularly with loved ones, eaten pasta primavera and wine cookies, watched the Chilean national soccer team on a projector and divvied up beds, medicine, toiletries and athletic clothing that wicks away sweat.
None of these touches of life above, of course, will compare to donning the embroidered green coveralls and stepping into the 924-pound Phoenix capsule that will take them to the surface -- to their loved ones and the lives they once led.
Watch how the rescue will work
All that has happened inside the mine will serve only to strengthen them, if not their bonds with each other. Much of the news that made headlines while they were trapped -- the merger of United and Continental airlines, Oktoberfest's 200th anniversary, Lindsay Lohan's failed drug test -- will seem trivial at best.
They will step into a whirlwind, with military choppers flying them to Copiapó, motorcycles escorting their ambulances to the hospital and physicians rushing them to electric beds with clean, white sheets.
But soon, if everything goes well -- and rescuers are going to great lengths to ensure it does -- the men will get to rest and enjoy life, especially the things they may have forgotten were important before their confinement: family, friends, nature, love.
They'll be able to do so knowing they taught the world a lesson. Be it by circumstance or divine intervention, the men were never goners.
After all, for the first 17 days of their imprisonment -- when others believed them dead -- the men survived more off hope than they did off the meager supplies they found in their shelter.
Their story demands we re-evaluate foregone conclusions, that we find a purpose for hope no matter our despair.
CNN's Jessica Ravitz, Karl Penhaul and Patrick Oppmann contributed to this report.
FOLLOW THIS TOPIC