STORY HIGHLIGHTS
Ecuador's interior minister says "the risk was very serious" for President Rafael Correa
The chief of national police has resigned
Local media reports question whether the president's life was ever in danger
Correa says he still supports the country's police officers
(CNN) -- Three days after police officers protesting a new law physically attacked Ecuador's president and allegedly held him at a hospital for hours, the country's interior minister says the government remains convinced that the uprising was an attempted coup.
Interior Minister Gustavo Jalkh told CNN en Espanol Sunday that the intentions of the police officers involved were clear when the president's attempts to talk drew a violent reaction from a crowd of protesters Thursday.
"The president was talking with some police who wanted to talk with us. We were talking. Why else would they throw bombs at a politician?" he said.
The police officers said they were angered by a new law that would take away their bonuses and reduce their compensation. President Rafael Correa, who was roughed up and hit by tear gas, said the law would do no such thing and said the police officers had not even read it.
"We were starting to talk when all of the sudden they started insulting us. And the insults had nothing to do with the supposed labor issues... There was a campaign of distortion and deception," said Jalkh, who as interior minister also oversees the national police.
He repeated the government's earlier assertions that former president Lucio Gutierrez was behind the unrest. And he said "the risk was very serious" for Correa.
But Gutierrez has denied any involvement, and local media reports have questioned whether Correa's life was ever in danger, claiming that other government officials were able to enter and leave the hospital while Correa remained inside.
"The elements for a coup do not exist. There was no political movement or a call for the president to leave office. There was no intent to put the presidency in the power of another person. What occurred was an uprising from part of the police," analyst Roberto Izurieta told CNN en Espanol Friday.

Video: Ecuador's president freed by army

Video: Chaos reigns in Ecuador's capital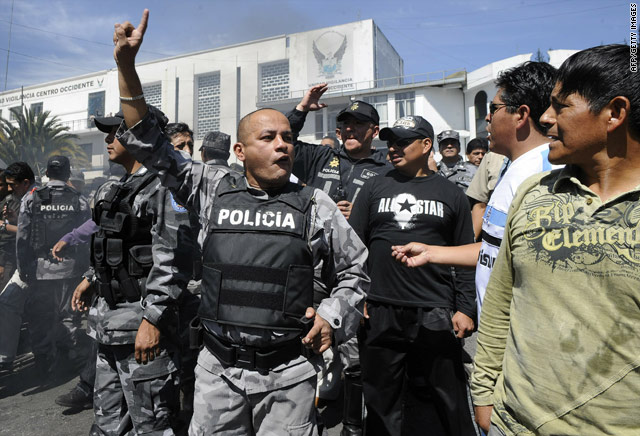 Gallery: Police protest in Ecuador
Izurieta said Correa behaved "imprudently," inciting the crowds by making an impassioned speech from the balcony of the police hospital.
A video by CNN affiliate Ecuavisa showed a defiant Correa standing at an upper floor window, shouting to a crowd of supporters who had gathered outside the hospital, "If they want me, here I am," and then ripping his necktie loose.
Hundreds of troops loyal to the president later arrived at the hospital and rescued him in a shootout with police Thursday.
In a statement released by the government, Jaikh said at least four people were killed in the standoff -- two soldiers, a police officer and a university student. Nearly 200 others were injured in unrest throughout the country, Ecuador's health minister said.
In response to the deaths, the government declared three days of national mourning Friday.
The government declared a one-week state of emergency Thursday afternoon and put the military in charge of security.
The chief of the national police resigned Friday.
Correa has said that the police involved were trying to kill him, but pledged to continue supporting the 42,000-member national police force.
"We cannot use a few dozen criminals who call themselves police to judge an entire institution that makes a tremendous effort, thousands of men and women who give us security," he said, according to a statement released by his office.
CNN's Claudia Palacios and Catherine E. Shoichet contributed to this report.
FOLLOW THIS TOPIC