Bolivian president involved in soccer scuffle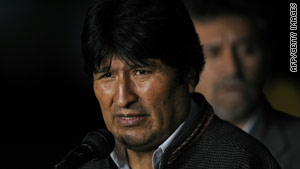 Bolivian President Evo Morales was playing in a soccer match when he reacted to someone who had fouled him.
STORY HIGHLIGHTS
Evo Morales was kicked in the leg by an opposing player
The president responded by kneeing the player in the groin
The player was ejected, but Morales continued to play
(CNN) -- It was the type of move that only a head of state could get away with.
During a soccer match, Bolivian President Evo Morales was caught on tape kneeing an opponent in the groin after an apparently hard foul he received. For his unsportsmanlike strike, Morales was not ejected, but the object of his aggression was, for his foul against the president.
The incident was at a friendly soccer game that took place in La Paz on Sunday after the inauguration of the new field, but political overtones were not absent.
The game was between the pesident's team and a team from the mayor of La Paz, made up of opposition politicians.
The state-run ABI news agency did not mention Morales' action but detailed the foul that led to it.
The opposing player kicked Morales hard in the right leg, the agency reported. The player's cleats left three marks on the president's leg and caused bruising in the area.
"The president received the violent hit five minutes into the game," the agency wrote.
After the hit, Morales asked for an analgesic spray to the wounded area and continued playing.
Doctors after the game who examined the president suggested up to 10 days of resting the leg for it to heal, ABI reported. The pain that Morales felt was a "seven out of ten," the doctors told ABI.
Morales continued Monday with his work as normal but was icing his leg and using anti-inflammatories regularly, the agency reported.
FOLLOW THIS TOPIC