STORY HIGHLIGHTS
Since the explosion that trapped 33 miners, Chile's mining industry is under new scrutiny

Brushes with death are a common story among Chilean miners

More than 370 miners have died in Chile in the past decade, according to government data

For some communities, mining -- and its risks -- are a way of life

Tierra Amarilla, Chile (CNN) -- Gilberto Angulos does not need to say a word to tell the tale of working 30 years in Chile's mines. His broken body does all the talking for him.
A jagged scar runs down his forehead. A metal plate keeps his fractured left forearm together. A bone never properly set juts from his left shoulder.
The injuries are the remnants of a mine explosion that nearly killed him. In 2003, Angulos was driving excavation equipment in a large copper mine when he felt a rush of air.
"I got knocked back into the equipment, and rocks came crashing down. The equipment was completely destroyed, and the rocks came down on top of me," he said. "With all the rocks landing on top of me, I was covered in bruises. All over my body.
"I was lucky; I got hit by rocks, but none landed directly on top of me," Angulos said, holding his hands a foot and a half apart to indicate the size of the projectiles raining down. "If they had, I'd be dead."
Instead of being killed, Angulos was taken 1,300 miles (2,092 km) south to Santiago, where he spent a year in the hospital. The damage to the miner was permanent.
Angulos said the accident could have been avoided.
Ten explosive charges had misfired. As well as blasting loose tons of rock to be harvested for copper, the charges ripped into the miner. Despite the severity of his injuries, Angulos received little compensation.
"They paid for the hospital in Santiago," he said, "and for my wife to come be with me for a month. That was it."
And, he said, little changed at the mine following the accident.

Video: Celebration at the Chile mine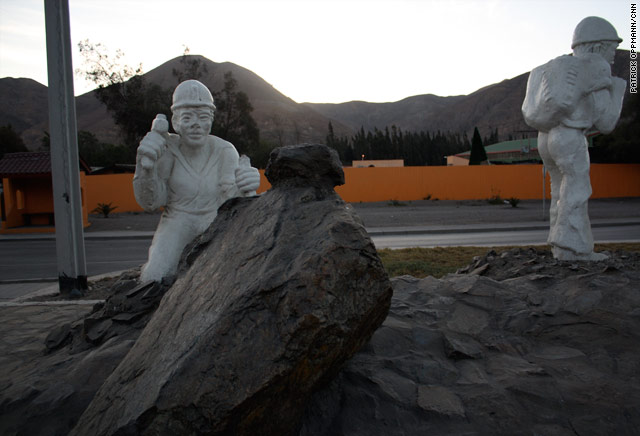 Gallery: Mining is a dangerous profession in Chile
"No one asked any questions, asked me what happened or increased supervision," he said. "There was an explosion, end of story."
With the San Jose mine collapse that trapped 33 men in Chile this summer, new scrutiny is being placed on the country's lucrative mining industry.
Government officials said the owner and operator of that mine, the San Esteban Mining Co., did not complete promised improvements to the mine where the men have been trapped since August 5, 2,300 feet (701 meters) underground.
After the collapse, President Sebastian Piñera dismissed top officials at the country's mine regulating agency, saying, "We've found there were many deficiencies, many errors and many omissions."
Many of the 33 trapped miners and their peers have had numerous brushes with death in the depths of a mine.
Mario Gomez had two fingers sliced off by falling rocks. Victor Segovia spent a year recovering after a rock slammed into his back.
Franklin Lobos was trapped for three hours during a previous cave-in. Hector Avila worked 20 years in the mines and became close friends with several of the now-trapped miners when he worked with them at the San Jose mine.
When asked why he left the San Jose mine, Avila rolls up his right pant leg to show the spider web of scars across his crushed foot.
A rock was driven into his foot with the force of a bullet after explosive charges in the mine misfired, Avila said.
A geologist was killed in the same 2007 accident, prompting the closure of the San Jose mine. But the mine was reopened soon after.
A government investigation is trying to determine why it was reopened if improvements to the mine's safety were apparently never completed.
The San Esteban Mining Co. did not return calls requesting comment on its safety record.
They company is facing bankruptcy and may lack the funds to pay its workers.
Avila said he and other workers had a name for the most dangerous mines they worked: "kamikaze" mines.
"It's about need, about needing to take care of your family," Avila said. "You become going like a kamikaze down into a dangerous mine. As miners, we lived with the danger just the way kamikazes did in their attacks."
An accident at a different mine cost Avila his livelihood and his left leg after a steel beam fell on him. The leg was sheared off, he said, and he nearly died.
Avila punctuates his sentences by repeating, "Pero estamos con vida": "We are still alive."
Since 2000, 374 miners have died practicing their trade in Chile, according to government statistics. For some Chilean mining communities, the risks that come with working in the depths of the Earth are part of the fabric of life.
The mining town of Tierra Amarilla supplies many of its men to the area's mines, including the San Esteban mine, where the trapped workers await rescue. In an area of town called Villa Mineros, the streets are named for miners who did not return alive from the hunt for copper and gold.
Under a sign that reads Ivan Gonzalez Way, a woman sweeps her doorstep. She looks up at the sign as if noticing it for the time when asked who Gonzalez was.
She is not sure but said, "He was a miner. We are the family of miners, so we honor them."
Down the town's one main road, the family of killed miner Ricardo Rojas has just returned from seeing a lawyer.
They have been told that the attorney couldn't take on their case for what they could pay him. Rojas died in April, after being crushed under tons of rock in a copper mine.
He was 29 years old and left his wife, Pamela, with three small children to raise alone. Before her husband died, Pamela said, she wanted him to quit the mines.
"They always gave him the dangerous jobs," Pamela said. "He would say, 'Baby, I don't want to go to work tomorrow. I have to do this job, and I don't want to,' and I would say 'Baby, don't go,' but then he would say, 'I have to, or they will run me off.' "
The Rosario Mine, where Rojas worked, did not return calls about the case. There has not been an investigation into his death, his wife said, and after she complained to the company, her husband's paychecks stopped coming.
"We want this cleared up. We want answers. We want justice," she said.
For many miners, though, the risks of the job are weighed against the need to provide for their families.
After he was released from the hospital, half-deaf and his body twisted from the mine accident, Angulos was given a desk job.
But when job cuts hit the mining industry, Angulos had only one place to go: back to the mines. He is grateful for the work but also terrified.
"I am doing the same work as before, with the same machine, and its tough, because I have pain in this arm," Angulos said. "It's risky to have me back working in the mine. You should be 100 percent to do this kind of work."
FOLLOW THIS TOPIC