Fidel Castro marks 50 years of neighborhood watch group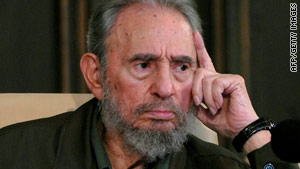 Former Cuban President Fidel Castro touched on familiar themes including the prospect of nuclear war.
STORY HIGHLIGHTS
Committees were designed to root out counter-revolutionary activity
They now also carry out social welfare projects
Castro avoided the topics of prisoner releases or recent economic reforms
Havana, Cuba (CNN) -- Former Cuban president Fidel Castro marked the 50th anniversary of the country's neighborhood watch-dog network on Tuesday with an hour long speech in front of tens of thousands of cheering onlookers in the Cuban capital.
The Committees in Defense of the Revolution (CDRs) were first established on September 28, 1960 as collectives of local volunteer committees designed to root out counter-revolutionary activity at a time when clandestine efforts to overthrow the new Castro government were at a fever pitch.
They now also carry out social welfare projects and assist in hurricane disaster relief across the island nation.
Flanked by senior Cuban leadership and clad in his signature olive green fatigues, the 84-year-old Communist leader appeared healthy, quoting from a speech he gave in 1960, following a revolution a year earlier that toppled then US-backed dictator Fulgencio Batista on New Year's day.
"In the face of the imperialist aggression, we're going to implement a system of collective vigilance," he said. "So that everybody knows who lives on the block, what they do, and what relations they have with the tyranny, and with whom they meet."
Castro also touched on familiar and more recent themes like warning against the prospect of nuclear war.
Tuesday's speech comes just one day after the country's Roman Catholic Church announced the names of three more political prisoners soon to be released from jail, raising the total number to 39 following a deal brokered by church leaders and Spain's Foreign Ministry back in July.
Castro avoided the topic of prisoner releases or the recent economic reforms underway in the current administration of his younger brother and current president Raul Castro.