Police: 'Wanted' FARC commander killed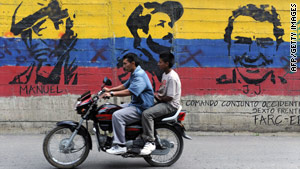 Motorcyclists ride past a mural showing dead FARC leaders in El Palo, Colombia.
STORY HIGHLIGHTS
Colombian police chief says Cabana's death was a "blow to the terrorist heart" of the rebel group
The U.S. State Department has been offering a $2.5-million reward for his arrest or conviction
At least 27 FARC guerrillas were killed in the airstrike, Colombia's president says
(CNN) -- A Colombian airstrike over the weekend killed a high-ranking rebel commander who was wanted in the United States, police said.
Sixto Antonio Cabana Guillen was among the more than two dozen guerrillas killed in a Colombian air force bombing operation Sunday, Colombia's National Police said Monday.
The U.S. State Department had been offering a reward of up to $2.5 million for information leading to his arrest or conviction.
Cabana, as a top member of the Revolutionary Armed Forces of Colombia, helped set policies directing and controlling the production and distribution of hundreds of tons of cocaine to the United States and the world, according to a statement on the State Department's website.
At least 27 people from the Marxist guerrilla group, known as FARC, were killed in Sunday's operation in southern Colombia, Colombian President Juan Manuel Santos said.
Colombian National Police Director Gen. Oscar Naranjo said Cabana's death was "a blow to the terrorist heart of the FARC."
There were several warrants for the arrest of Cabana, who was one of 50 FARC leaders on the State Department's "wanted" list, Colombia's government said in a statement.
Officials said Sunday's bombing campaign was one of the strongest blows against the FARC in recent memory.
"This shows the country, but above all those bandits, that our people are not under their control, but to the contrary, responding with incisiveness," Santos said in a phone conversation with the country's defense minister.
The airstrike was ordered in a jungle area near the city of San Miguel in the state of Putumayo, which borders Ecuador.
Rebels in the area had killed eight police officers in an attack earlier this month.
Disputes with Ecuador have arisen in that border area before because of a 2008 airstrike where Colombian planes followed the rebels in Ecuadorian territory. Sunday's mission took place on the Colombian side of the border, Defense Minister Rodrigo Rivera said, who praised Ecuador's cooperation in the fight against the FARC.
In March 2009, authorities in Ecuador said they had captured Cabana, who is known by the alias "Domingo Biojo."
But fingerprint tests revealed he was not the man they had apprehended, according to a statement on the State Department's website.
FOLLOW THIS TOPIC