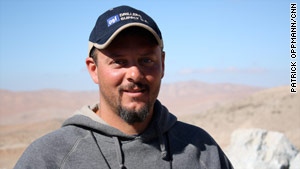 Brandon Fisher, owner of Center Rock Inc., is leading a team of U.S. drilling experts to help free the trapped miners in Chile.
STORY HIGHLIGHTS
Brandon Fisher's firm distributed custom drill bits in Chile before the August 5 mine collapse
Chile's government asked Fisher to help lead one of the rescue efforts of trapped miners
He has two people with him in Chile, and a 74-person team back in Berlin, Pennsylvania
His company aided in the 2002 Quecreek Mine rescue in Pennsylvania

At the San Jose Mine, Chile (CNN) -- Brandon Fisher has the deep orange hue of someone who has a sunburn on top of a sunburn. The creases under his eyes are evidence of how little sleep he has had lately.
Fisher and a small crew of American drillers are the tip of the spear for Plan B, one of the three drilling teams racing to rescue 33 trapped miners buried 2,300 feet below the ground.
It's a high pressure assignment expected to continue for months in Chile's remote and unforgiving Atacama Desert.
Fisher's crew has been working around the clock for more than a week. Despite the grueling schedule, he said he's up for the challenge.
"We have got humans in the ground. It doesn't matter if they are Americans or Chileans," Fisher said Monday in his first interview since arriving in Chile eight days earlier.
"We have the ability to help them out, and that's the whole reason we are here. Miners are miners; it doesn't matter what country they are from."
Fisher is based in Berlin, Pennsylvania, in the heart of the state's mining country thousands of miles from Chile. His company, Center Rock Inc., aided in the rescue of nine miners who were trapped for more than four days after the 2002 collapse of the Quecreek Mine. He has drilled oil, gas and water holes and the foundations for the Trump Tower in Chicago, Illinois.

Video: Drilling difficulties at mine site

Video: Food prepared for trapped miners

Video: Video shows miners' routines
But those assignments pale in comparison to the difficulties of rescuing 33 men who became trapped August 5 when the copper and gold mine they were working in collapsed around them.
Fisher became involved in the rescue effort when the company that distributes his custom-made drills in Chile put the Chilean government in touch with him.
"They understood our plan," Fisher said of the Chilean government. "Hopefully we will get a hole in the ground successfully."
Creating that "hole" -- as the drillers call it -- is as risky as a tightrope walk over a minefield as the drill attempts to widen a 5-inch opening previously drilled when rescuers were searching for the missing miners.
Eventually Fisher's drill bits could widen the hole to a diameter where the miners would be rescued one at a time in a specially designed cage.
Learn more about the mine collapse
Before that can happen though the drillers need to, as Fisher termed it, "thread the needle" by following that 5-inch hole that runs at an 82-degree angle with as little deviation as possible.
It's not drilling so much as surgery.
"We knew we had challenging conditions here," Fisher said, citing "very, very hard rock, fractured zones, obviously old mine entrances to weave and drill through."
One of those mine entrances almost put an end to the endeavor. Rescue workers still don't know if they hit a mine reinforcement beam or another type of obstruction.
But there was no doubt about the effects on the Plan B drill bit: It was pulverized. The driller said he didn't have time to get angry.
"It's never a good feeling, but you immediately develop a game plan," Fisher said.
Fisher's mission then became what he terms "a fishing expedition" -- painstakingly removing the wrecked chunks of the steel drill bit from the mine's depths.
If they failed, officials said they might have to move and restart Plan B entirely.
But on Tuesday morning, Chilean engineer Rene Aguilar announced that the effort was back on track.
Again Fisher was tasked with making a customized drill bit. Again a job that usually takes weeks was completed in days.
Fisher credits his 74-person staff back home in Pennsylvania.
"Everyone back home -- the pride is amazing," he said. "They are pulling together and making things happen very quickly."
Quickly is how he would prefer to have "the hole" finished.
He drives by the families of the miners living in a tent camp on his way into the mine. He works alongside miners and wants to get these 33 trapped men back to their loved ones.
As they walk to their 4-by-4 truck to get back to the mine, Fisher and colleagues Bill Maloney and Richard Soppe break into weary laughter when asked if there's a bottle of champagne on ice somewhere for when the miners are freed.
The veteran drillers glance at one another as if to ask, "Do we look like guys who drink champagne?"
"No," Maloney replied, "but maybe we did bring a few bottles of Rolling Rock with us."
FOLLOW THIS TOPIC